PUNJAB
HARYANA
JAMMU & KASHMIR
HIMACHAL
REGIONAL BRIEFS
NATION
OPINIONS
MAILBAG
BUSINESS
SPORTS
WORLD

Thursday, July 8, 2004, Chandigarh, India
Updated at 3:00 am (IST)

Economic survey for overhauling
tax system
Lays roadmap for 8 per cent growth
New Delhi, July 7
The Economic Survey for 2003-04 today laid down the broad contours of the roadmap for achieving a growth rate of 7 to 8 per cent, but raised pointed questions about the continuation of several politically sensitive policies, including that of the minimum support price and food subsidies.


Highlights

Graphic: State of the Indian Economy

Editorial: On the right track
CAST YOUR VOTE
Would you support the abolition of minimum support price for agricultural products?

EDUCATION
JOBS & CAREERS
HEALTH & FITNESS
FORUM
SCIENCE & TECHNOLOGY
SPORTS
WOMEN
TRIBUNE CLASSIFIEDS
BRIDES WANTED
GROOMS WANTED
OTHERS
HOW TO PLACE ADVTS

Budget today


IT exemption limit may be raised to Rs 1 lakh
New Delhi, July 7
Finance Minister P. Chidambaram will present the first Budget of the UPA government tomorrow amidst expectations about a major thrust to the rural economy, infrastructure and small-scale industry.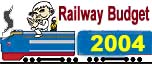 In Forum today
THE TRIBUNE MAGAZINES
On Sundays

On Saturdays

IN PASSING


Sir, the budget to rehabilitate the ex-ministers is more than what we'll save from downsizing.

by Sandeep Joshi
(Click to enlarge)

10,000 cr hike in defence outlay likely
New Delhi, July 7
Defence will remain high on the United Progressive Alliance (UPA) government's priority list with a whopping Rs 10,000 crore increase expected in this year's budgetary allocation over last year's revised estimates.
NDA to boycott only 'tainted' ministers
New Delhi, July 7
The NDA today decided to adopt the strategy of selective boycott of all "tainted" ministers including Railway Minister Laloo Prasad Yadav in both Houses of Parliament even as its MPs participated in the discussion on the Railway Budget and other issues.


Editorial: No stalling
Five new Punjab ministers sworn in
Chandigarh, July 7
The Punjab Governor, Justice O P Verma (retd), today administered the oath of office and secrecy to five new members of the Council of Ministers at Raj Bhavan. Of them three were of Cabinet-rank and two ministers of state.
Hurriyat chief Ansari steps down


Srinagar, July 7
Moulvi Abbas Ansari, chief of the separatist Hurriyat Conference, announced his decision to step down from the post of chairman of the conglomeration here today and asked Mirwaiz Umar Farooq to resume unity efforts.


In video (28k, 56k)


No proposal to send troops to Iraq: PM


New Delhi, July 7
Prime Minister Manmohan Singh today categorically stated in the Lok Sabha that there was no change in his government's policy on Iraq and said there was "no proposal to send troops to Iraq".


In video (28k, 56k)


Rail fares, freight rates untouched
July 7, 2004
Capt drops 10 ministers
July 6, 2004
22 killed as bus hits tree near Ferozepore
July 5, 2004
2 die, 35 hurt in blast near Mufti's residence
July 4, 2004
Kalam sacks Governors of Haryana, UP, Gujarat, Goa
July 3, 2004
PM brings relief for Andhra farmers
July 2, 2004
Tainted ministers to stay, asserts PM
July 1, 2004
PM for uniform focus on rural development
June 30, 2004
India, Pak vow to resolve Kashmir issue
June 29, 2004
India, Pak agree on slew of CBMs
June 28, 2004