PUNJAB
HARYANA
JAMMU & KASHMIR
HIMACHAL
REGIONAL BRIEFS
NATION
OPINIONS
MAILBAG
BUSINESS
SPORTS
WORLD

Sunday, July 18, 2004, Chandigarh, India
Updated at 3:00 am (IST)

TN tragedy toll 90; five held
Kumbakonam, July 17
While the death toll in Friday's devastating fire at the local school here rose to 90, Congress MP Rahul Gandhi visited this small town in Tamil Nadu to express emotional support to the families of the victims.


In video (28k, 56k)


Haryana page: Kumbakonam brings back memories of Dabwali

Chandigarh page: Fire safety a non-issue in UT schools


CAST YOUR VOTE
Should schools that don't follow fire safety code be punished?


EDUCATION
JOBS & CAREERS
HEALTH & FITNESS
FORUM
SCIENCE & TECHNOLOGY
SPORTS
WOMEN
TRIBUNE CLASSIFIEDS
BRIDES WANTED
GROOMS WANTED
OTHERS
HOW TO PLACE ADVTS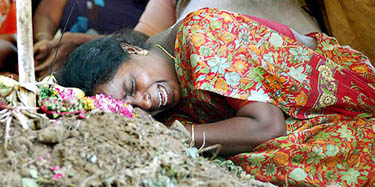 A woman relative cries over the grave of a girl, who was killed in a massive school fire, at a burial ground in Kumbakonam, 320 km southwest of Chennai, on Saturday. — Reuters photo


Most schools in India have no fire safety measures. The Tamil Nadu school fire tragedy in which 90 children have been burnt alive illustrates gross failure on the part of society and the school authorities to ensure safety of children. We are publishing the following article by Pushpa Girimaji, who writes a regular column on consumer affairs — Editor-in-Chief

Time for all schools to wake up
There is dire need for schools to be safety conscious, particularly because the lives of young children are involved. The Kumbakonam school tragedy on Friday is a classic example of what such lack of safety consciousness can do.


THE TRIBUNE MAGAZINES
On Sundays

On Saturdays

Ambika winner in new-look Congress


New Delhi, July 17
Congress president Sonia Gandhi has sought to blend experience with youth and give adequate representation to different regions, castes and women in the new-look party organisation unveiled today.


Haryana page: Surjewala graduates to AICC

Hannah murder: Kohli handed over to CBI
Kolkata, July 17
Hannah Foster's alleged killer Maninderpal Singh Kohli, now in the jail lock-up at Kalimpong, Darjeeling, since his arrest yesterday, has been handed over to the CBI.
Bhajan Lal forms panel to safeguard Haryana interests
Chandigarh, July 17
What Mrs Sonia Gandhi failed to do, Capt Amarinder Singh has done. His one legislative action has united the Haryana Congress. (Details on Haryana page)


Nation page: Chautala threatens to nullify Yamuna agreement

Haryana page: INLD rules out all-party meeting on SYL canal issue

Rao Inderjit seeks all-party meeting for consensus

Punjab page: Hanspal for tribunal to assess water situation

NAC to prepare policy papers
New Delhi, July 17
The first meeting of the National Advisory Council, set up under the leadership of Congress President Sonia Gandhi to monitor the implementation of the Common Minimum Programme, today decided to prepare 10 papers on various sectors, including agriculture and employment.


'Unfit' atta on sale
Flour millers told to be vigilant
Chandigarh, July 17
Nearly six lakh tonnes of old damaged wheat procured by official agencies in Punjab and Haryana, declared unfit for human consumption, is allegedly finding its way into human stomachs, thanks to the general apathy of the official machinery and greed of the traders.
In Women today
87 school kids burnt to death in TN
July 17, 2004
Fresh Godhra probe rocks Parliament
July 16, 2004
"What do you think...," PM pulls up Capt
July 15, 2004
Punjab legislation rocks Parliament
July 14, 2004
Punjab annuls all water pacts
July 13, 2004
SAD sweeps SGPC election
July 12, 2004
Bhattal divested of Agriculture
July 11, 2004
11 get life term for Mumbai blasts
July 10, 2004
IT exemption limit raised to Rs 1 lakh
July 9, 2004
Economic survey for overhauling tax system
July 8, 2004