PUNJAB
HARYANA
JAMMU & KASHMIR
HIMACHAL
REGIONAL BRIEFS
NATION
OPINIONS
MAILBAG
BUSINESS
SPORTS
WORLD
Saturday, July 31, 2004, Chandigarh, India
Updated at 3:00 am (IST)

Captors extend deadline
New Delhi, July 30
As the Iraqi group holding seven hostages extended its execution threat deadline (by 24 hours according to a PTI report), the hostage crisis apparently took a positive turn this evening with the government getting a little breathing space for negotiating the release of three Indian truck drivers.

Natwar's plea to media on hostage crisis

Editorial: It is shocking
CAST YOUR VOTE
Do you feel that the proposed rise in petrol and diesel prices is justified?


EDUCATION
JOBS & CAREERS
HEALTH & FITNESS
FORUM
SCIENCE & TECHNOLOGY
SPORTS
WOMEN
TRIBUNE CLASSIFIEDS
BRIDES WANTED
GROOMS WANTED
OTHERS
HOW TO PLACE ADVTS
ILLEGAL CREMATIONS

Anger of Una people spills on roads
Bid to take 37 foreigners hostage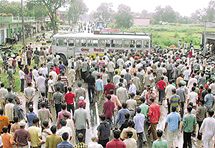 Shimla/Una, July 30
An attempt was made by a mob in Una to take 37 foreign tourists hostage. The mob was protesting against the failure of the government to get three Indians released, who have been held captive by militants in Iraq.

Protesters block the Una-Nangal national highway at Antaryami's village, Dehlan, demanding the release of the Indian hostages in Iraq, on Friday. — A Tribune photograph

Mukesh Ambani sees oil and gas fields in Punjab


Chandigarh, July 30
Punjab has oil and gas fields. This is a strong belief of Mr Mukesh Ambani, Chairman of the Reliance group of Industries. In fact, the main subject matter of his luncheon meeting with Capt Amarinder Singh at new Motibagh Palace in Patiala yesterday was the exploration of oil and gas in the state.


In Sports Tribune today
THE TRIBUNE MAGAZINES
On Sundays

On Saturdays

IN PASSING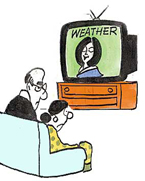 Tomorrow it may rain or it may not, it may be cloudy or sunny, or a thunderstorm or...

by Sandeep Joshi
(Click to enlarge)

Kamal Nath rushes to Geneva
Bangkok, July 30
Union Commerce Minister Kamal Nath today cut short his visit here as the WTO talks in Geneva ran into rough weather with India rejecting the WTO's second draft of a framework pact.

Shibu Soren comes out of hiding
Ranchi, July 30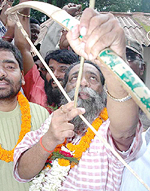 Resurfacing after more than 10 days, former Union Coal Minister Shibu Soren today claimed that he was never in hiding but was "interacting" with people in villages and jungles of Jharkhand.


In video (28k, 56k)

Shibu Soren, JMM President and former Union Coal Minister, holds his party's symbol as he resurfaced on Friday in Ranchi after being on the run for the past 10 days to evade arrest. Soren announced his intention to surrender in Jamtara Court on Monday. — PTI photo

Editorial: The Soren show
Captain's fate hangs in balance


New Delhi, July 30
Punjab Chief Minister Amarinder Singh's fate hangs in balance. Having drawn flak from the Central party leadership for the unilateral abrogation of the inter-state river water treaties, Capt Amarinder Singh is now in the firing line for his subsequent public statements virtually holding the Centre to ransom in case his decision is overturned by the Supreme Court.

Attempt on Pak PM-designate's life, 7 killed
Islamabad, July 30
Pakistan Prime Minister-designate Shaukat Aziz tonight survived a suicide bomb attack on his election campaign in which seven persons, including his driver, were killed and more than 25 injured at a place 55 km from here.


Tapestry designed by Corbusier removed from CJ's courtroom
Chandigarh, July 30
The removal of a huge specially-woven tapestry, one of the few hanging on the walls of nine courtrooms of the Punjab and Haryana High Court, was today raised by concerned citizens of the City Beautiful at a presentation-cum-meeting chaired by UT Adviser Lalit Sharma.

Pak hostages executed
July 30, 2004
Sonia does not meet Amarinder
July 29, 2004
Surplus Delhi, MP power for Punjab
July 28, 2004
Global Trust Bank to be merged with OBC
July 27, 2004
No power for industry in Haryana
July 26, 2004
Shibu Soren resigns
July 25, 2004
India, Pak vow to fight terror
July 24, 2004
India steps up efforts for release of hostages
July 23, 2004
Where is Sibu Soren?
July 22, 2004
Eradicate terror, India tells SAARC
July 21, 2004