PUNJAB
HARYANA
JAMMU & KASHMIR
HIMACHAL
REGIONAL BRIEFS
NATION
OPINIONS
MAILBAG
BUSINESS
SPORTS
WORLD

Wednesday, September 15, 2004, Chandigarh, India
Updated at 3:00 am (IST)

We are not bound to build SYL: Punjab
New Delhi, September 14
The Punjab Government while defending the termination of all water-sharing agreements, informed the Supreme Court that it was under no obligation to build the Sutlej Yamuna Link canal despite the earlier court orders.


CAST YOUR VOTE
Should POTA be repealed?



73 killed in Iraq attacks
Baghdad, September 14
At least 73 persons were killed today in a Baghdad car bombing and an ambush on the police in Baquba, claimed by Al-Qaida-linked militants, as fighting flared between the US troops and insurgents in Ramadi. Fifty persons perished in Baghdad, 47 of them when a vehicle packed with explosives blew up outside the main police headquarters.


India to unveil more CBMs
PM to have substantive talks with Bush, Musharraf
New Delhi, September 14
Prime Minister Manmohan Singh will have substantive talks with US President George Bush and Pakistan President Pervez Musharraf during separate bilateral meetings in New York next week, sources said today.


Pak Navy launches fast attack craft

Russia 'watching' Indo-Pak talks

EDUCATION
JOBS & CAREERS
HEALTH & FITNESS
FORUM
SCIENCE & TECHNOLOGY
SPORTS
WOMEN
TRIBUNE CLASSIFIEDS
BRIDES WANTED
GROOMS WANTED
OTHERS
HOW TO PLACE ADVTS
THE TRIBUNE MAGAZINES
On Sundays

On Saturdays

IN PASSING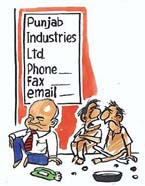 He was the CEO of this company. He is here due to the power crisis.

by Sandeep Joshi
(Click to enlarge)
Sonia concerned over UP law and order

Rae Bareli, September 14
Ahead of Lok Sabha and Assembly by-elections in Uttar Pradesh, Congress President Sonia Gandhi today said she would take up the increasing incidence of crime and lawlessness in the state with the Centre and the Mulayam Singh Yadav government.
In video (28k, 56k)

Congress President Sonia Gandhi hugs an old woman in her constituency at Sudhauli block in Rae Bareli on Tuesday.
— PTI photo

Left not happy with UPA govt
French assurance to Ashwani Kumar on turban issue
New Delhi, September 14
Rajya Sabha MP Ashwani Kumar has made a forceful plea to France to address sympathetically the issue of Sikh children wearing turbans in French schools. Mr Kumar while addressing a visiting Indo-French parliamentary friendship group, said the issue was sensitive.

Indicted SGPC member presents siropa to Badal
Tarn Taran, September 14
Even as the two-member fact-finding committee constituted by the Shiromani Akali Dal (Amritsar) today indicted Mr Baldev Singh, an SGPC member, for molesting the wife of a raagi, the accused today publicly honoured Mr Parkash Singh Badal, President, Shiromani Akali Dal, at "dhadi darbar" held at Manji Sahib, Darbar Sahib, here today.


Jagsir and Arif get hero's welcome
Festivity, decoration of village mark return
Kot Bhai (Muktsar), September 14
A wave of joy gripped the village when Lance Naik Jagsir Singh, who spent five years in Pakistani jails, accompanied by his friend Sapper Mohammad Arif, reached his house late this evening.
They want to serve country

Lance Naik Jagsir Singh and Sapper Mohammad Arif being blessed by Jagsir's mother on their return from Military Hospital, Amritsar, at Kot Bhai village in Muktsar on Tuesday. — Tribune photo by writer

ILLEGAL CREMATIONS
In Health & Fitness today
Punjab power crisis deepens
September 14, 2004
India, Nepal vow to fight terror
September 13, 2004
Pak softening on Sir Creek
September 12, 2004
North faces power, water crises
September 11, 2004
Despite Left, govt may hike telecom FDI cap
September 10, 2004
India, Pakistan to continue composite dialogue process
September 9, 2004
Natwar, Kasuri promise visa-free travel to journalists
September 8, 2004
PM rules out China-type talks on Kashmir
September 7, 2004
Natwar, Kasuri hold positive talks
September 6, 2004
Ordinance soon to repeal POTA
September 5, 2004