PUNJAB
HARYANA
JAMMU & KASHMIR
HIMACHAL
REGIONAL BRIEFS
NATION
OPINIONS
MAILBAG
BUSINESS
SPORTS
WORLD
Wednesday, September 22, 2004, Chandigarh, India
Updated at 3:00 am (IST)

Bush lauds India's stand on Pak
Pervez must end cross-border terrorism, says PM
New York, September 21
All uncertainties, if any, about the future course of relations between India and the USA were set at rest today when the two countries reaffirmed their commitment towards forging a long-term strategic partnership by working together in combating the menace of terrorism and weapons proliferation and strengthening their economic ties.
In video (56k)

Prime Minister Manmohan Singh with US President George W. Bush at Hotel Waldorf-Astoria in New York on Tuesday. — Reuters photo

CAST YOUR VOTE
Will India, Pakistan be able to build bridges at the UN?
EDUCATION
JOBS & CAREERS
HEALTH & FITNESS
FORUM
SCIENCE & TECHNOLOGY
SPORTS
WOMEN
TRIBUNE CLASSIFIEDS
BRIDES WANTED
GROOMS WANTED
OTHERS
HOW TO PLACE ADVTS
Manmohan meets Karzai

Editorial: A common enemy


Musharraf claims freeing Pak from extremism
New York, September 21
Defending his decision to renege on his pledge to step down as Army chief, Pakistan's President Pervez Musharraf has claimed his leadership is freeing his country from the menace of extremism.

In video (28k, 56k)

Left economists threaten to quit Plan panel
New Delhi, September 21
As the architect of the country's economic reforms, Prime Minister Dr Manmohan Singh woos the investors in the 'Mecca' of modern capitalism, New York, Left-oriented economists today threatened to quit the Planning Commission panel protesting the presence of experts from multi-lateral agencies.


Nation page: Mulayam opposes foreign experts

J&K: Mufti wants to silence critics, decides to contest poll

HIMACHAL: Govt asks companies to prefer locals

CHANDIGARH: Nominations for student body poll filed


LUDHIANA: Taxman visits 4 city jewellers


OPINIONS: A common enemy


NATION: States can abolish tribunals: SC

In Health & Fitness today
THE TRIBUNE MAGAZINES
On Sundays

On Saturdays

IN PASSING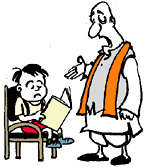 Find from your history book any other hero on whom we could base our next agitation.
by Sandeep Joshi
(Click to enlarge)



Coal shortage hits 20 thermal power stations
Bathinda, September 21
The power crises in Punjab may go from bad to worse as acute shortage of coal has hit two major thermal plants situated in this district.
AP quota for Muslims struck down
Hyderabad, September 21
The Andhra Pradesh High Court today struck down the July 12 government order (GO) providing 5 per cent reservation for Muslims in education and employment in the state.
Centre refuses direct talks with Naxalites
Hyderabad, September 21
The Centre today declined to take the initiative to hold direct talks with Naxalite groups and asked the states to adopt their own strategies to tackle the extremist problem.


In video (28k, 56k)
MC helpless as houses come up on riverbed
Mandi, September 21
Encouraged by the government's construction activity, encroachers along the Beas and its tributary Saketi khud have raised houses right on the riverbed, exposing residents to the risk of flash floods.
Unauthorised houses have come up within the Municipal Council limit in Mandi district along the Beas riverbed in Souli Khud. — Tribune photo by Karam Singh


Gudia goes back to Arif
New Delhi, September 21
The tension and suspense in the lives of three persons — Army sappar Mohammad Arif, his wife Gudia and her second husband Taufiq — came to an end tonight, with Gudia deciding as per Shariyat to go back to Arif, who agreed to accept her yet-to-be-born child out of her marriage with Taufiq.


Nation page: Gudia must follow Islamic law: ulemas



Manmohan Singh, Blair vow to fight terror
September 21, 2004
Reforms to continue, says PM
September 20, 2004
Weed out graft from judiciary
September 19, 2004
Cabinet nod for repeal of POTA
September 18, 2004
Government to probe Census confusion, says Sonia
September 17, 2004
Haryana says Punjab Act unconstitutional
September 16, 2004
We are not bound to build SYL: Punjab
September 15, 2004
Punjab power crisis deepens
September 14, 2004
India, Nepal vow to fight terror
September 13, 2004
Pak softening on Sir Creek
September 12, 2004