PUNJAB
HARYANA
JAMMU & KASHMIR
HIMACHAL
REGIONAL BRIEFS
NATION
OPINIONS
MAILBAG
BUSINESS
SPORTS
WORLD
Saturday, September 25, 2004, Chandigarh, India
Updated at 3:00 am (IST)

PM, Pervez address Kashmir issue
New York, September 24
After 57 years of hostility and mutual suspicion, India and Pakistan today made a "new beginning" in their relations when they decided to consider all possible options for a peaceful negotiated settlement of the Jammu and Kashmir issue and explore the possibility of the Iran-India gas pipeline via Pakistan.


PM turns philosophical

Editorial: Sober, statesmanlike
CAST YOUR VOTE
Is Punjab right in lifting the ban on fresh recruitment in government departments?

EDUCATION
JOBS & CAREERS
HEALTH & FITNESS
FORUM
SCIENCE & TECHNOLOGY
SPORTS
WOMEN
TRIBUNE CLASSIFIEDS
BRIDES WANTED
GROOMS WANTED
OTHERS
HOW TO PLACE ADVTS
Prime Minister Manmohan Singh receives a painting presented to him by Pakistan President Pervez Musharraf during their meeting in New York on Friday. External Affairs Minister K. Natwar Singh (extreme left) and his Pakistani counterpart Khurshid Mahmud Kasuri (second from right) are also in the picture.
— PTI photo by Subhash Chander Malhotra
PM talks business with Indian-Americans
New York, September 24
For the past several years, the annual meeting of the Prime Minister with prominent Indian-Americans, held on the margins of the UNGA session, had been a social affair.

Raja Ramanna cremated


Mumbai, September 24
The mortal remains of Dr Raja Ramanna, architect of India's nuclear weapons programme, were cremated at the Shivaji Park electric crematorium in Central Mumbai this afternoon.


In video (28k, 56k)

Kalam, PM condole death

Oped: Raja Ramanna: architect of N-plan

In Sports Tribune today
THE TRIBUNE MAGAZINES
On Sundays

On Saturdays


Montek World Bank man, says Basu
Kolkata, September 24
The standoff between the Left and the UPA government over the involvement of foreign experts in the Planning Commission took a serious turn with veteran CPM leader Jyoti Basu today launching a direct attack on Deputy Chairman of Planning Commission Montek Singh Ahluwalia, terming him a "World Bank man".


Cong denies World Bank lobby
I would not have been minister if Sonia was PM: Pawar
New Delhi, September 24
Despite the two UPA coalition partners fighting the Maharashtra Assembly elections together, NCP leader Sharad Pawar said today that he would not have been a minister if Congress President Sonia Gandhi had become the Prime Minister.

Mann supporters stone Tiranga Yatra
Rajpura/Fatehgarh Sahib, September 24
Black flags greeted Uma Bharti's Tiranga Yatra within minutes of its entry into Punjab. Akali Dal (Amritsar) activists stopped the yatra for around 15 minutes at the octroi post here.


Punjab page: Uma ridicules Left's 'double standards'


Punjab farmers disrupt rail traffic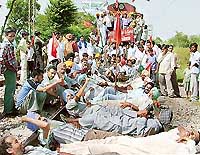 Moga, September 24
Members of the Bharti Kisan Union (Ekta) and the Kirti Kisan Union disrupted rail traffic for three hours on the Ludhiana-Ferozepur track at Ghal Kalan village to press their demands.

Kirti Kisan Union members disrupt rail traffic on the Ludhiana-Ferozepore track at Ghal Kalan village in Moga on Friday. — Tribune photo by Inderjit Verma

Sri Guru Granth Sahib - Quadricentenary Celebrations
Athens 2004
Illegal Cremations: NHRC List
Indo-Pak series 2004
Poll Quotes
G. S. Tohra (1924—2004)
Patiala Heritage Week
Turbans
Indian Science Congress
Chandigarh is 50
EARLIER FEATURES
Peace talks with Pak to continue
September 24, 2004
PM for expanding Security Council
September 23, 2004
Bush lauds India's stand on Pak
September 22, 2004
Manmohan Singh, Blair vow to fight terror
September 21, 2004
Reforms to continue, says PM
September 20, 2004
Weed out graft from judiciary
September 19, 2004
Cabinet nod for repeal of POTA
September 18, 2004
Government to probe Census confusion, says Sonia
September 17, 2004
Haryana says Punjab Act unconstitutional
September 16, 2004
We are not bound to build SYL: Punjab
September 15, 2004