PUNJAB
HARYANA
JAMMU & KASHMIR
HIMACHAL
REGIONAL BRIEFS
NATION
OPINIONS
MAILBAG
BUSINESS
SPORTS
WORLD

Wednesday, October 27, 2004, Chandigarh, India
Updated at 3:00 am (IST)

Musharraf's new Kashmir formula
Favours gradual demilitarisation
Islamabad, October 26
In a new formulation to resolve the vexed Kashmir issue, President Pervez Musharraf last night suggested that India and Pakistan consider the option of identifying some "regions" of Kashmir on both sides of Line of Control, demilitarise them and grant them the status of independence or joint control or under UN mandate.
Pakistan President Pervez Musharraf speaks during a function in Islamabad on Monday night. — Reuters photo

World page: Oppn condemns Pervez's formula on Kashmir

J&K page: Cong rejects proposal of Pervez Musharraf

Nation page: Expect non-conventional threats, PM asks services

Special article: NPT is of no use
CAST YOUR VOTE
Do you approve of khap panchayats breaking engagements/marriages?

FORUM
EDUCATION
JOBS & CAREERS
HEALTH & FITNESS
SCIENCE & TECHNOLOGY
SPORTS
WOMEN
TRIBUNE CLASSIFIEDS
BRIDES WANTED
GROOMS WANTED
OTHERS
HOW TO PLACE ADVTS


Nothing new, says India
New Delhi, October 26
The Ministry of External Affairs today played down Pakistan President Pervez Musharraf's sweeping proposal for resolution of the Kashmir issue saying discussions on the subject could not be held through the media and the correct forum for this was the Composite Dialogue process.
Bank rate, CRR kept unchanged
* New credit policy projects higher inflation
* GDP growth rate scaled down
Mumbai, October 26
The Indian economy is likely to be in the grip of inflationary pressures in the coming months even as its growth slows down, according to projections issued by the Reserve Bank of India.
Dr Y. V. Reddy, Governor of the RBI, speaks during a meeting with bankers in Mumbai on Tuesday. — Reuters photo
PUNJAB: Centre, Punjab ignore gurdwara panel demands

HARYANA: Chautala family has assets over Rs 10,000 cr: Cong


HIMACHAL: Education Minister must quit: Nadda


CHANDIGARH: Room allowed in backyard


LUDHIANA: SCD college students assaulted


OPINIONS: Acquittal mode

In Health & Fitness today

THE TRIBUNE MAGAZINES
On Sundays

On Saturdays

IN PASSING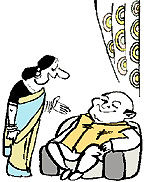 Good news. They are considering to make you the associate assistant of Deputy CM of Maharashtra!
by Sandeep Joshi
(Click to enlarge)
Highlights

Business page: RBI credit policy makes FM, India Inc happy

Graphic: RBI's mid-term monetary measures

Maharashtra imbroglio continues
New Delhi, October 26
Although the Congress and the NCP appeared close to resolving the Maharashtra imbroglio throughout the day, the much-touted agreement failed to materialise by the end of the day.


| | |
| --- | --- |
| The volatile situation which had developed after thousands of farmers descended on this village to stop the auction of a piece of land of a local farmer, in lieu of payment of loan of commission agent on the order of civil court, was defused today when the same was postponed to January 20, 2005, by the Civil Judge. | Activists of The BKU (Ekta) block the road leading to Chathewala village in Bathinda on Tuesday to prevent the entry of government officials. — Photo by Sonu |
12 killed in Manipur
Imphal, October 26
Twelve persons, including two Army jawans, were killed in encounters and militant strikes in Manipur since yesterday, official sources said today. The Kuki Students Union, however, dubbed one of the encounters as 'fake', alleging three innocent Kuki students were gunned down by police commandos at Hapta area last night and called a 24-hour general strike from midnight. — PTI
Social boycott awaits Sonia
Asanda, October 26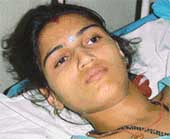 Sonia's rehabilitation in this village has encountered an unexpected problem. The social boycott of the Lohan families in Jakholi village of Kaithal district at the behest of a khap panchayat has emboldened the Rathis of Asanda and nearby villages to launch a fresh campaign for socially boycotting her husband Rampal Dahiya's family as and when she returns to the village.

Uneasy calm at Jakholi village

Sonia case: NHRC notice to Haryana
Sri Guru Granth Sahib - Quadricentenary Celebrations
Athens 2004
Illegal Cremations: NHRC List
G. S. Tohra (1924—2004)
Patiala Heritage Week
Turbans
Chandigarh is 50
EARLIER FEATURES
NCP defers decision on Congress proposal
October 26, 2004


Omar, Farooq survive bomb attack
October 25, 2004
Final decision likely today
October 24, 2004
Decide turban issue by Nov 5, French court tells school
October 23, 2004
Centre ready for talks with Bodos
October 22, 2004
FDI in civil aviation hiked to 49 per cent
October 21, 2004
Sharad Pawar wants Home at the Centre
October 20, 2004
Venkaiah Naidu quits
October 19, 2004
Pawar reminds Sonia of 1999 formula
October 18, 2004
Cong-NCP retains power
October 17, 2004