PUNJAB
HARYANA
JAMMU & KASHMIR
HIMACHAL
REGIONAL BRIEFS
NATION
OPINIONS
MAILBAG
BUSINESS
SPORTS
WORLD
Thursday, October 28, 2004, Chandigarh, India
Updated at 3:00 am (IST)

Cong to head govt in Maharashtra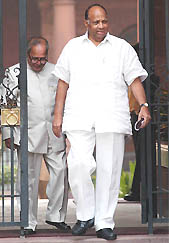 New Delhi, October 27
After endless rounds of negotiations and tough posturing, the Congress and the Nationalist Congress Party finally agreed upon a power-sharing formula for Maharashtra tonight.


Special article: Tussle over CM's chair


Union Agriculture Minister Sharad Pawar and Defence Minister Pranab Mukherjee coming out after a Cabinet meeting at South Block in New Delhi on Wednesday. — PTI photo

CAST YOUR VOTE
Do you feel that inadequate evidence is presented in high-profile cases?

FORUM
EDUCATION
JOBS & CAREERS
HEALTH & FITNESS
SCIENCE & TECHNOLOGY
SPORTS
WOMEN
TRIBUNE CLASSIFIEDS
BRIDES WANTED
GROOMS WANTED
OTHERS
HOW TO PLACE ADVTS
4 farmers die in firing
Army out in Sriganganagar
Sriganganagar, October 27
Four persons were killed and six injured in pitched battles between agitating farmers and the police in Gharsana tehsil.
SGPC, Jathedar cross swords over heritage status to Golden Temple
Amritsar, October 27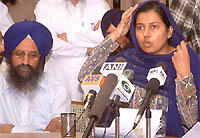 Jathedar of Akal Takht Giani Joginder Singh Vedanti and Bibi Kiranjot Kaur, executive member of the SGPC today crossed swords over the proposed announcement of the world heritage status for the Golden Temple by Unesco.
An SGPC member, Bibi Kiranjot Kaur, addresses a press conference in Amritsar on Wednesday. The SGPC secretary, Mr Dilmegh Singh, is also seen in the picture. — Photo by Rajiv Sharma

PUNJAB: Capt takes tough stand in Brar case

HARYANA: Twins' death remains mystery


CHANDIGARH: Chronically ill UT staff to get full expenses


LUDHIANA: 7 get life sentence for triple murder


OPINIONS: Musharraf's loud thinking


NATION: It's Ram for Advani once more


WORLD: Japan to keep troops in Iraq


SPORTS: Meek surrender by Indian batsmen


THE TRIBUNE MAGAZINES
On Sundays

On Saturdays


Advani to move no-trust vote
New Delhi, October 27
Leader of the Opposition L. K. Advani will lead the attack on the UPA government by introducing a motion of no confidence in the coming winter session of Parliament, political sources said today.
Fake encounter case: CBI for early hearing
New Delhi, October 27
The CBI has pleaded for an early hearing in the Supreme Court of a case of "fake encounter" against five Punjab Police officers.
Decision on fuel price hike deferred
Prithvi-III test fired
Balasore, October 27
India today test fired the indigenously developed medium range, surface-to- surface missile Prithvi-III from the Integrated Test Range at Chandipur, about 15 km from here.


In video (28k, 56k)
Sri Guru Granth Sahib - Quadricentenary Celebrations
Athens 2004
Illegal Cremations: NHRC List
G. S. Tohra (1924—2004)
Patiala Heritage Week
Turbans
Chandigarh is 50
EARLIER FEATURES
Musharraf's new Kashmir formula
October 27, 2004


NCP defers decision on Congress proposal
October 26, 2004


Omar, Farooq survive bomb attack
October 25, 2004
Final decision likely today
October 24, 2004
Decide turban issue by Nov 5, French court tells school
October 23, 2004
Centre ready for talks with Bodos
October 22, 2004
FDI in civil aviation hiked to 49 per cent
October 21, 2004
Sharad Pawar wants Home at the Centre
October 20, 2004
Venkaiah Naidu quits
October 19, 2004
Pawar reminds Sonia of 1999 formula
October 18, 2004