PUNJAB
HARYANA
JAMMU & KASHMIR
HIMACHAL
REGIONAL BRIEFS
NATION
OPINIONS
MAILBAG
BUSINESS
SPORTS
WORLD

Saturday, December 18, 2004, Chandigarh, India
Updated at 3:00 am (IST)
Haryana goes to polls on Feb 3
Three-phase Assembly elections in Bihar, Jharkhand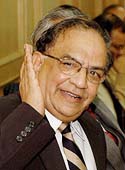 New Delhi, December 17
Setting the battle for ballot in motion in the three crucial states of North India, the Election Commission today announced one day poll in Haryana and three-phase elections for violence-prone states of Bihar and Jharkhand. Chief Election Commissioner T S Krishna Murthy addressing, a newspersons said the polling in Haryana would take place on February 3.

Chief Election Commissioner T.S. Krishnamurthy at a press conference in New Delhi on Friday. — PTI photo

CAST YOUR VOTE
Is the demand to increase the rate of interest of the employees' provident fund justified?

FORUM
EDUCATION
JOBS & CAREERS
HEALTH & FITNESS
SCIENCE & TECHNOLOGY
SPORTS
SOCIETY
TRIBUNE CLASSIFIEDS
BRIDES WANTED
GROOMS WANTED
OTHERS
HOW TO PLACE ADVTS
SC seeks details of murder case against seer
New Delhi, December 17
Kanchi Shankaracharya Jayendra Sarswathi will have to wait till January 6 for any possible relief from the Supreme Court on his bail petition as the apex court today sought to examine all relevant documents pertaining to the case, including the "case diary" before passing any order.


Nation page: Police 'harming' Kanchi mutt's reputation: NDA

69 pc unsafe injections in govt hospitals, says minister
New Delhi, December 17
Admitting that 69 per cent of the injections given at government hospitals were unsafe, the government today said a decision had been taken to introduce auto disposable syringes.


France expels 3 Sikh students
Paris, December 17
Forty-three students, including three Sikh boys, have been expelled from their schools in France after refusing to comply with a new law outlawing religious insignia in state-run educational institutions, officials said today. — AFP
THE TRIBUNE MAGAZINES
On Sundays

On Saturdays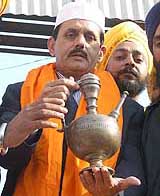 Ganga Sagar brought from Britain
Amritsar, December 17
The sacred urn of Guru Gobind Singh, Ganga Sagar, was received with reverence here today by Sikh devotees who had gathered at Raja Sansi International Airport since morning. The sacred relic of the 10th Sikh Guru arrived in a chartered plane at 1:46 pm, flown from Delhi.

Azizullah Khan, the ninth descendant of Rai Kalah, Nawab of Raikot and a member of the Pakistan National Assembly, shows Ganga Sagar in Amritsar on Friday. — PTI photo

Station master surrenders
Pathankot, December 17
The station master of Bangala, Mr V.K. Malviya, today surrendered before the Chief Commissioner, Railway safety, northern circle, Mr G.P. Garg.

Venkatesh dies with wish unfulfilled

In video (28k, 56k)
Hyderabad, December 17
Twentyfive-year-old Venkatesh, who wanted to donate his organs before his body wasted away, today breathed his last, his wish unfulfilled. (Details on Nation page)


Chandigarh's Jeevika Shah crowned Mrs India World
Mumbai, December 17
Chandigarh-born Jeevika Shah won the Mrs India World 2004 beauty pageant at a star-studded function organised here last evening. Ms Shah, a mother of two, was presented the title by Bollywood actress Sridevi.

| | |
| --- | --- |
| | The winner of Mrs India World 2004 Jeevika Shah is flanked by first runners-up Arunima Datta (right) and second runners-up Sapna Sharma after being crowned in Mumbai on Thursday night. — PTI photo |
In Sports Tribune today
Angry Speaker offers to quit
December 17, 2004


Laloo's absence sparks din
December 16, 2004


37 die as trains collide near Mukerian
December 15, 2004

Revenue may fall
December 14, 2004

Hurriyat leaders ready to adjust
December 13, 2004

Ensure gender justice, CJI tells courts
December 12, 2004

ULFA says no to PM's peace offer
December 11, 2004

India cautions USA on arms for Pak
December 10, 2004

Kalam visits Kargil
December 9, 2004
Naga leaders meet PM
December 8, 2004