PUNJAB
HARYANA
JAMMU & KASHMIR
HIMACHAL
REGIONAL BRIEFS
NATION
OPINIONS
MAILBAG
BUSINESS
SPORTS
WORLD

Monday, December 20, 2004, Chandigarh, India
Updated at 3:00 am (IST)
A Tribune Exclusive
PM, Patel to stay away from planes' purchase
New Delhi, December 19
For the first time, the Prime Minister, Dr Manmohan Singh, and the Union Minister for Civil Aviation, Mr Praful Patel, have distanced themselves from the contentious issue of purchase of aircraft for the national carriers — Indian Airlines and Air-India.
CAST YOUR VOTE
Should panchayats be punished for ordering couples of "incompatible gotra" to break up?

FORUM
EDUCATION
JOBS & CAREERS
HEALTH & FITNESS
SCIENCE & TECHNOLOGY
SPORTS
SOCIETY
TRIBUNE CLASSIFIEDS
BRIDES WANTED
GROOMS WANTED
OTHERS
HOW TO PLACE ADVTS
Thick fog engulfs North India
Claims 4 lives; disrupts train, flight schedules

A train makes its way through thick fog in Ludhiana on Sunday. Fog disrupted air and train traffic in northern India on Sunday. — Tribune photo by Sayeed Ahmed
Prime accused in Sankararaman murder case surrenders
Chennai, December, 19
Krishnaswamy alias Appu, the prime accused in the Sankararaman murder case for which the Kanchi Shankaracharya was arrested on November 11, today surrendered at the Balakrishnapuram police station in Chittor district of Andhra Pradesh.
School student involved in MMS porn case held
New Delhi, December 19
The Delhi Public School student, who had allegedly shot the video clippings of his amorous activities with his classmate, was tonight arrested in the case in which two others who circulated the photos on the Internet have also been booked.

THE TRIBUNE MAGAZINES
On Sundays

On Saturdays

India ready for US consular access to Bajaj

Editorial: Reality bytes

Khap panchayats can't interfere after betrothal
Meham, December 19
A sarv khap mahapanchayat organised at the historic Chaubisi Chabutra here today decided that no khap panchayat would have any right to interfere in a marriage after the betrothal ceremony.
Manmohan inaugurates underground section of Delhi Metro
New Delhi, December 19
"Urban public transport is a national priority", Prime Minister Manmohan Singh observed after inaugurating the first underground section of the Delhi Metro this morning.
Sikhs try to storm theatre in UK
London, December 19
Hundreds of Sikh protesters tried to storm a theatre in the central English city of Birmingham, about 200 km from here, to disrupt a play which allegedly hurt their religious sentiments, the police said today.


Shaheedi Samagam begins at Chamkaur Sahib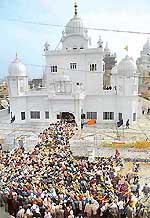 Chamkaur Sahib, December 19
About 50,000 devotees from all over the country and also from abroad today paid their obeisance at Gurdwara Katalgarh Sahib on the first day of Shaheedi Samagam which began here.


Sports page: Sports events mark first day of Shaheedi Samagam

Punjab page: Bibi Jagir Kaur invites Chief Justice to seminar on martyrdom

Devotees queue outside Gurdwara Katalgarh Sahib on the first day of the Shaheedi Samagam in Chamkaur Sahib on Sunday. — Tribune photo by Pradeep Tiwari

EC objects to creation of Haryana dist
December 19, 2004

Haryana goes to polls on Feb 3
December 18, 2004

Angry Speaker offers to quit
December 17, 2004

Laloo's absence sparks din
December 16, 2004

37 die as trains collide near Mukerian
December 15, 2004

Revenue may fall
December 14, 2004

Hurriyat leaders ready to adjust
December 13, 2004

Ensure gender justice, CJI tells courts
December 12, 2004

ULFA says no to PM's peace offer
December 11, 2004

India cautions USA on arms for Pak
December 10, 2004

Kalam visits Kargil
December 9, 2004