PUNJAB

HARYANA

JAMMU & KASHMIR

HIMACHAL

REGIONAL BRIEFS

NATION

OPINIONS

MAILBAG

BUSINESS

SPORTS

WORLD
Wednesday, June 15, 2005, Chandigarh, India
Updated at 3:00 am (IST)

Punjab hikes power tariff by 10.27 pc
Chandigarh, June 14
The Punjab State Electricity Regulatory Commission today hiked the power tariff by 10.27 per cent across the board except the farming sector and Scheduled Castes, thus putting a financial burden of Rs 768.65 crore on the power consumers in the state for the current financial year.
Ludhiana page:


Projects for 2000 MW additional power in pipeline: Dawar


Power tariff hike jolts industry


CAST YOUR VOTE
Should withdrawals from provident funds and post office savings schemes be taxed?


FORUM

EDUCATION

JOBS & CAREERS

HEALTH & FITNESS

SCIENCE & TECHNOLOGY

SPORTS

SOCIETY

TRIBUNE CLASSIFIEDS

BRIDES WANTED

GROOMS WANTED

OTHERS

HOW TO PLACE ADVTS
Jobs & Careers

Mann held for sedition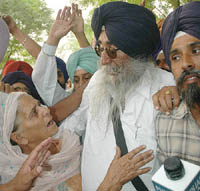 Police swoops down on party leaders
Sangrur, June 14
Mr Simranjit Singh Mann, President of the Akali Dal (Amritsar), was today arrested on charges of sedition from the Nankana Sahib chowk, here. Later, he was taken to a local marriage palace on the Sangrur-Patiala road where he addressed mediapersons.

SAD (Amritsar) President Simranjit Singh Mann with his supporters outside the Anandpur Sahib Court after being remanded in judicial custody on Tuesday. — Tribune photo by Manoj Mahajan


Remanded in judicial custody till June 20


Opinions page: Memorial to Bluestar
India concerned over Jehadis' training by Pak minister
New Delhi, June 14
India has expressed serious concern over Pakistan Information Minister Sheikh Rashid Ahmad's involvement in the training of jehadis in guerrilla warfare, saying "it is particularly serious that people directly involved in such activities continue to occupy high positions" in that country.

Special article: The heights of contention



| | |
| --- | --- |
| | PUNJAB: Mann's arrest mere drama: Badal |
| | HARYANA: 4 complaints against Chautala to be probed in 3 months |
| | HIMACHAL: Rs 23 crore plan to boost tourism |
| | |
| | |
| | CHANDIGARH: Cable sabotage troubles city viewers |
| | |
| | OPINIONS: Terrorists' target |
| | |
| | |
| | |
| | |
FORUM
Our feature, Forum, provides our readers with an opportunity to express their views on some of the vital issues facing the country. The new question being posed is:
What should be done to reform the examination system?
Readers are invited to send their letters, not more than 150 words, to:
The Editor-in-Chief, The Tribune, Sector 29-C, Chandigarh, with 'Forum' superscribed on the envelope. The answers can also be e-mailed to:
[email protected]
H.K. Dua, Editor-in-Chief

QUOTE OF THE DAY
The office of the Governor has been bestowed with the independence to rise above the day-to-day politics and override compulsions either emanating from the Central system or the state system.
— A.P.J. Abdul Kalam

THE TRIBUNE MAGAZINES
On Sundays

On Saturdays


Kalam teaches 'dharma' to Governors
New Delhi, June 14
President A. P. J. Abdul Kalam today asked Governors to rise above day-to-day politics and "override compulsions" emanating from the Central or state systems to preserve the "light of dharma".


In video (28k, 56k)


Nation page:
Rodrigues for consensus on inter-state disputes
Quit politics, VHP tells Advani


Haridwar, June 14
Accusing BJP President L.K. Advani of having "betrayed" the Hindu cause, the VHP today asked him to quit politics and urged the party to replace him with a pro-Hindu leadership, asserting that it should not be turned into a "Bharatiya Jinnah Party".


In video (28k, 56k)

Haryana DGP (Rules) suspended
Chandigarh, June 14
The DGP (Rules), Haryana, Mr Mohinder Singh Malik, was today put under suspension by the state government for his role in the alleged irregularities taking place in raising the Haryana State Industrial Security Force (HSISF).
US reassures India on defence supplies
New Delhi, June 14
The US Deputy Assistant Secretary of State in the Bureau of Political Affairs, Mr Gregory Suchan today indicated at a major expansion of supply of American hi-tech defence and aviation hardware to India.

Nation page: US official's visit to boost defence trade


India among Vice-Presidents of UN Assembly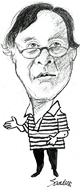 Pataudi denied interim bail
Chandigarh, June 14
The Punjab and Haryana High Court today refused to grant interim bail to former Indian cricket captain Mansur Ali Khan Pataudi in a case relating to alleged poaching of a black buck and some other animals.


In video (28k, 56k)



Haryana page: Kadyan not afraid of being arrested in Pataudi case


Animal trophies adorn Pataudi palace

In Health Tribune today

15 dead, 90 hurt in Pulwama blast
June 14, 2005

Let Siachen be a peace mountain: PM
June 13, 2005

A world first in N-power programme
June 12, 2005

Storm wreaks havoc
June 11, 2005

Advani isolated
June 10, 2005

BJP board rejects Advani's resignation
June 9, 2005

Advani quits, but partymen say no
June 8, 2005

Punjab PMT cancelled
June 7, 2005


Cong sweeps to power in Goa
June 6, 2005


Hurriyat leaders in Islamabad
June 5, 2005

Stop terror, Hurriyat leaders tell PoK House
June 4, 2005
Hurriyat leaders reach PoK
June 3, 2005