PUNJAB

HARYANA

JAMMU & KASHMIR

HIMACHAL

REGIONAL BRIEFS

NATION

OPINIONS

MAILBAG

BUSINESS

SPORTS

WORLD
Friday, June 24, 2005, Chandigarh, India
Updated at 3:00 am (IST)
Punjab reels under power cuts
Spends Rs 12 cr to buy power daily
Chandigarh/Patiala, June 23
Life has become miserable in Punjab's countryside where various areas are being subjected to power cuts on a staggered basis lasting up to nine hours daily. Even in urban areas the situation is equally bad as consumers have to face power cuts ranging from six hours to eight hours.



Haryana page: Industrial power supply to be cut


Chandigarh page: Residents reel under blackouts
CAST YOUR VOTE
Do deserted NRI wives need special protection?



FORUM

EDUCATION

JOBS & CAREERS

HEALTH & FITNESS

SCIENCE & TECHNOLOGY

SPORTS

SOCIETY

TRIBUNE CLASSIFIEDS

BRIDES WANTED

GROOMS WANTED

OTHERS

HOW TO PLACE ADVTS
17 more succumb to heat wave
Chandigarh, June 23
Providing the much-needed relief from the current spell of heat wave, maximum temperature today dropped at many places due to south easterly winds, but unrelenting heat which prevailed in the region till yesterday took its toll to 35.



Chandigarh page: 7 heat stroke cases at PGI
Nod to Bill against domestic violence
New Delhi, June 23
The Union Cabinet today gave approval for the introduction of the Protection of Women from Domestic Violence Bill, 2005, in Parliament. The Bill seeks to protect the right of a woman to reside in her matrimonial home or shared household, whether or not she has any title or right in that home or household.

In video (28k, 56k)

Relatives of victims of Kanishka crash comfort each other before a memorial service to mark the 20th anniversary of the bombing in Ahakista, southern Ireland, on Thursday. — Reuters
In Jalandhar Plus today
FORUM
The new question is:
What should be done to reform the examination system?
Send your letters, not more than 150 words, to:
The Editor-in-Chief, The Tribune, Sector 29-C, Chandigarh, with 'Forum' superscribed on the envelope. The answers can also be e-mailed to:
[email protected]

QUOTE OF THE DAY
"We are not against peace and normal relations with Pakistan and it is good to have peace, but it cannot be brought about until terrorist infrastructure is alive."
— L.K. Advani
THE TRIBUNE MAGAZINES
On Sundays

On Saturdays


Indian call centre doling out British bank secrets
London, June 23
The call centre business in India could head from boom to bust if the allegations regarding call centre employees doling out confidential data and indulging in fraudulent business are anything to go by.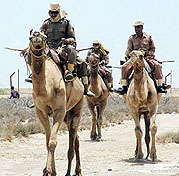 BSF jawans patrol the Indo-Pak border at Vigicot in the Kutch area of Gujarat on Thursday. — PTI
Rashid applies for bus travel
Govt unlikely to give clearance
New Delhi, June 23
Pakistan Information Minister Sheikh Rashid today applied for an entry permit for travelling by the Muzaffarabad-Srinagar bus on June 30 despite a recent controversy about his alleged involvement in running terrorist training camps in Pakistan occupied Kashmir (PoK).



Terror camps exist in Poonch, Rajauri, says Centre
Siachen demilitarisation hinges on line north of Soltoro Ridge
New Delhi, June 23
Prime Minister Manmohan Singh's advocacy of demilitarising Siachen and turning it into a mountain of peace has found a subterranean echo in Pakistan.
A Tribune Special
Only couriers, not drug smugglers, land in police net
Chandigarh, June 23
Sixtyfour-year-old Gurinder Singh Bhullar, who was arrested on April 16 on a charge of smuggling heroin, died in judicial custody on June 1. Dismissed from the Army, Gurinder Bhullar was perhaps one of the top few alleged drug smugglers of the region who was arrested with the contraband.

APHC seeks dialogue with Centre
June 23, 2005

19 Gujarati tourists killed
June 22, 2005

Petrol, diesel costlier
June 21, 2005
Anil Ambani enterprises in power
June 20, 2005
Ambanis reach accord
June 19, 2005
Bonanza for farmers
June 18, 2005
Cabinet nod for dual citizenship
June 17, 2005
Be impartial, PM tells Governors
June 16, 2005
Punjab hikes power tariff by 10.27 pc
June 15, 2005
15 dead, 90 hurt in Pulwama blast
June 14, 2005
Let Siachen be a peace mountain: PM
June 13, 2005