PUNJAB

HARYANA

JAMMU & KASHMIR

HIMACHAL

REGIONAL BRIEFS

NATION

OPINIONS

MAILBAG

BUSINESS

SPORTS

WORLD



CHANDIGARH

LUDHIANA

JALANDHAR
New

DELHI

LIFESTYLE
New

JALANDHAR PLUS

AMRITSAR PLUS
Saturday, October 15, 2005, Chandigarh, India
Updated at 3:00 am (IST)

UT Judge knifed to death in Patiala
Patiala, October 14


Mr Vijay Singh, Presiding Officer, Labour Court, Chandigarh, was murdered by unidentified persons in the local Polo Ground, here situated at stone's throw from the New Moti Bagh residence of Chief Minister Amarinder Singh in the high-security area, late last night when he was taking a walk there alone.

Obituary: A man of many parts
Tribune launches Jalandhar edition
Jalandhar, October 14
"The Tribune has stood as a sentinel. It is not a mere newspaper. It has become a part of the family in the society of this region," Justice R.S. Pathak, President of The Tribune Trust, said while launching the Jalandhar edition of the paper at a glittering ceremony here today.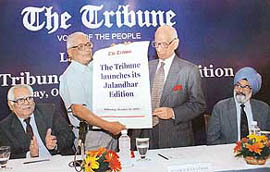 Justice R.S. Pathak (standing right), President of The Tribune Trust, and Mr H.K. Dua, Editor-in-Chief, launch the Jalandhar edition of The Tribune on Friday. Also seen are Mr R.P. Bambah (left) and Justice S.S. Sodhi, Trustees of The Tribune Trust. — Tribune photo by Pawan Sharma

CAST YOUR VOTE
Should there be a CBI inquiry into the Punjab Intranet case?



FORUM

EDUCATION

JOBS & CAREERS

HEALTH & FITNESS

SCIENCE & TECHNOLOGY

SPORTS

SOCIETY

TRIBUNE CLASSIFIEDS

BRIDES WANTED

GROOMS WANTED

OTHERS

HOW TO PLACE ADVTS

Jalandhar page: Snapshots of a close family bond
Cherished sentiment finds voice in people as Tribune comes to city



SC dismisses plea for stay on Bihar poll
New Delhi, October 14
The Supreme Court today rejected a petition for staying of the Bihar elections, filed by one of the petitioners on whose plea the Presidential order for dissolving the state Assembly was struck down by the court earlier by holding it as "unconstitutional".

Nation page: Sonia to campaign in Bihar
Shatrughan says no to BJP wooing
New Delhi, October 14
Bihari babu, Shatrughan Sinha, has gone into a self-imposed vanvas as a frantic BJP is desperately persuading him to campaign in the Bihar elections. Mr Sinha has turned down beleaguered BJP President L.K. Advani for a meeting after shooting off a third letter saying he will not campaign for the BJP because it had given tickets to criminals.
| | |
| --- | --- |
| | |
| | |
| | HIMACHAL: Kulu Dasehra a flop show |
| | |
| | |
| | CHANDIGARH: 5 killed, six hurt in mishap near Banur |
| | |
| | OPINIONS: Left out of lurch |
| | BUSINESS: Tata Motors mulls price hike |
| | |
| | |
| | |
In Lifestyle today
In Sports Tribune today
THE TRIBUNE MAGAZINES
On Sundays

On Saturdays

Brigadier gets 2-yr RI in Tehelka case
Patiala, October 14
A General Court Martial today found Brigadier Iqbal Singh guilty of professional impropriety and personal misconduct in the Tehelka case and sentenced him to two years of rigorous imprisonment besides cashiering him from service. The sentence, announced in open court, is subject to confirmation by the Chief of the Army Staff.
Curfew in UP district; 3 dead
Lucknow, October 14
The peace of the festival season was rudely disrupted when sectarian violence broke out in Mau district leaving at least 3 dead, more than a dozen injured and 15 shops gutted. Indefinite curfew has been clamped in the town.
After the shells, they brave the quake
Mahdia, Kamal Kote (Uri sector), October 14
About five kilometres after Uri town on the Srinagar-Muzzafarabad highway, the route of the now suspended 'peace bus', is a place called Salamabad. A couple of kilometres ahead, NH-1A is blocked, with landslide rubble and quake damages.

A girl tries to feed her younger sister amidst the ruins of their house which was destroyed in the recent earthquake in Kamlkote, about 130 km north of Srinagar, on Friday. — Tribune photo by Amin War
In video (28k, 56k)
More stories in Nation, World and J&K pages

E - Revolution 2005:
A Two-day IT conclave

Assembly Elections - 2005

Turbans

Chandigarh is 50

EARLIER FEATURES
Road to Aman Setu damaged
October 14, 2005
Landslides, snow hit rescue work
October 13, 2005
PM announces Rs 500 cr more aid, toll rises to 1300
October 12, 2005
After quake, it's terror in Rajouri
October 11, 2005

Death toll 30000, still rising
October 10, 2005

Quake rocks subcontinent
October 9, 2005
SC quashes order on House dissolution
October 8, 2005
Disinvestment of BHEL put on hold
October 7, 2005
AMU to move Apex Court against High Court order
October 6, 2005
India, Pak take step forward on Sir Creek
October 5, 2005