PUNJAB

HARYANA

JAMMU & KASHMIR

HIMACHAL

REGIONAL BRIEFS

NATION

OPINIONS

MAILBAG

BUSINESS

SPORTS

WORLD


CHANDIGARH

LUDHIANA

JALANDHAR
New

DELHI

JALANDHAR PLUS

AMRITSAR PLUS

LIFESTYLE
New
Wednesday, March 22, 2006, Chandigarh, India
Updated at 3:00 am (IST)

India raises terror issue with Bangladesh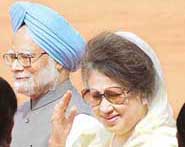 New Delhi, March 21
India and Bangladesh had their first bilateral summit meeting here this evening ever since Begum Khaleda Zia became Bangladesh Prime Minister in October 2001, but no breakthrough could be achieved.


Prime Minister Manmohan Singh with Bangladesh Prime Minister Begum Khaleda Zia during the welcome ceremony at Rashtrapati Bhavan in New Delhi on Tuesday. — Tribune photo by Mukesh Aggarwal


Nation page: Delhi, Dhaka sign pact to boost trade


Govt firm on women's quota bill, says PM

CAST YOUR VOTE
Have the MPs involved in the MPLAD funds scam been given too light a punishment?



FORUM

EDUCATION

JOBS & CAREERS

HEALTH & FITNESS

SCIENCE & TECHNOLOGY

SPORTS

SOCIETY

TRIBUNE CLASSIFIEDS

BRIDES WANTED

GROOMS WANTED

OTHERS

HOW TO PLACE ADVTS


Jobs & Careers
4 Babbars held in Chandigarh
Chandigarh, March 21
The Chandigarh Police today claimed to have arrested four members of the Babbar Khalsa International (BKI) along with 1 kg of RDX, one AK 47 rifle with 15 cartridges, a .38 bore revolver with five cartridges and a 12 bore gun from the road diving Sectors 12 and 14 late last night.


STD booth owner, two others held

Punjab page: Boys falsely linked to Bheora,
allege families


Chandigarh page: Bheora's arrest to cast shadow on
jailbreak trial


Editorial: Eleven years after

The four alleged Babbar Khalsa terrorists arrested by the Chandigarh Police being produced in a court in Chandigarh on Tuesday.
— Tribune photo by Manoj Mahajan

Indo-Pak talks on criminal matters begin
New Delhi, March 21
The two-day technical-level talks between India and Pakistan on matters pertaining to crime, human-trafficking, drug abuse, formation of SAARCPOL and immigration began here today after a gap of 17 years.
2 pilots die as MiG crashes in Rajasthan
New Delhi, March 21
In yet another MiG crash, a trainer version of Mig-21 fighter aircraft crashed soon after getting airborne from Uttarlai airbase in Rajasthan with two pilots on board.
CAG raps govt for overspending
on VVIP jets
New Delhi, March 21
The purchase of five Embraer executive jets for VVIP travel by the NDA government has come in for criticism from the the Comptroller and Auditor General for paying a higher price for purchase and overspending an "exorbitant amount" of Rs 126.90 crore for laying fancy interiors and in-flight entertainment on board.


India: The Tasks Ahead
SPECIAL SUPPLEMENT

125TH ANNIVERSARY CELEBRATIONS,
INAUGURAL SESSION


In Health & Fitness today
HOROSCOPE
Quote
I will be giving a new name to the BJP and a new face to it which has lost its moorings and the age-old beliefs and philosophies it was founded on.
— Uma Bharti

Uma shows her strength in Delhi
All set to form new party
New Delhi, March 21
After her famous breakaway from the BJP and public condemnation of the top BJP brass, the mercurial sanyasin today staged a show of strength in Delhi, ahead of launching her new party next month which she said would be based on core Hindutva ideology.


Mr H.S. Balli, former Industry Minister of Delhi, Mr Abhay Chautala, Ms Uma Bharti and Mr Madan Lal Khurana wave to their supporters at Janadesh Rally at Ramlila Ground in New Delhi on Tuesday.
— Tribune photo by Rajeev Tyagi

Report on controversial telecast sent to Centre
Chandigarh, March 21
Stung by bad publicity and adverse public reaction over a television programme on the issue of "Khalistan", the Punjab Government has sent a report to the Union Ministry of Home Affairs (MHA) explaining the "facts" relating to the telecast and the subsequent circumstances created by it.


Injured Sachin ruled out for one-dayers
Mumbai, March 21

Sachin Tendulkar, struggling for runs in the Tests, was today ruled out for the entire seven-match one-day series against England due to a hitherto undisclosed shoulder injury for which he will undergo a surgery in London.


E - Revolution 2005:
A Two-day IT conclave

Assembly Elections - 2005

Turbans

Chandigarh is 50

EARLIER FEATURES
Bheora, 2 other Babbars arrested
March 21, 2006
BJP suspends Khurana
March 20, 2006
2 pilots killed in IAF plane crash
March 19, 2006
60 tonnes of uranium fuel for Tarapur
March 18, 2006
N-deal bills moved in US Congress
March 17, 2006
4 MPs suspended till March 22
March 15, 2006
Delhi Police files appeal in HC
March 14, 2006
Witnesses fail to identify suspects
March 13, 2006
PM for judicial reforms
March 12, 2006
Bush for change in US law on N-sale
March 11, 2006
IAEA report sent to Security Council
March 10, 2006