PUNJAB

HARYANA

JAMMU & KASHMIR

HIMACHAL

REGIONAL BRIEFS

NATION

OPINIONS

MAILBAG

BUSINESS

SPORTS

WORLD

CHANDIGARH

LUDHIANA

JALANDHAR
New

DELHI

JALANDHAR PLUS

AMRITSAR PLUS

LIFESTYLE
New
Monday, March 27, 2006, Chandigarh, India
Updated at 3:00 am (IST)

Consensus emerging on amending law
Office of profit
New Delhi, March 26
A consensus appears to be fast emerging among various political parties on bringing a Bill in the reconvened Budget session of Parliament for a clear definition of an "office of profit".



Punjab Page: Sonia's resignation mere drama: Badal


SAD seeks disqualification of 34 MLAs


Sonia running UPA show, alleges BJP

Kandahar hijacking, 9/11 'linked'
New Delhi, March 26
Fresh evidence has surfaced suggesting that the December 24, 1999, hijacking of Indian Airlines flight IC 814 was a progenitor of unprecedented terrorist attack on the American mainland (9/11). Two terrorist incidents — one in India and the other in the USA — are closely interconnected as without the hijacking of IC 814 in 1999, 9/11 possibly could not have taken place.
CAST YOUR VOTE
Will the Nankana Sahib bus help build better relations with Pakistan?




FORUM

EDUCATION

JOBS & CAREERS

HEALTH & FITNESS

SCIENCE & TECHNOLOGY

SPORTS

SOCIETY

TRIBUNE CLASSIFIEDS

BRIDES WANTED

GROOMS WANTED

OTHERS

HOW TO PLACE ADVTS
HOROSCOPE

Squall, hailstorm hit wheat, vegetable crops
Chandigarh, March 26
High velocity winds accompanied by hailstorms early this morning have damaged mango, grapes, vegetable and wheat crops at various places in Punjab and other parts of this region.

Kalam for speeding up judicial process
New Delhi, March 26
Concerned over the time taken by courts in deciding cases, President A.P.J. Abdul Kalam has suggested that a study be conducted to examine the judicial delays.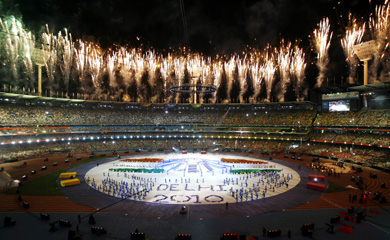 Fireworks light up the Melbourne Cricket Ground (MCG) at the end of a Delhi 2010 show to mark the next Commonwealth Games as part of the closing ceremony for the 2006 Commonwealth Games in Melbourne on Sunday. — AFP
(Related stories in Sports page)

CPM leader Biswas dead
Kolkata, March 26
The CPM Politburo member, Anil Biswas, who was also the party's state secretary in Bengal, died today at 5.25 pm after remaining in coma since March 18 following massive cerebral stroke. He was 62 and is survived by his wife and lone daughter.




India: The Tasks Ahead
SPECIAL SUPPLEMENT

125TH ANNIVERSARY CELEBRATIONS,
INAUGURAL SESSION


| | |
| --- | --- |
| | |
| | |
| | |
| | |
| | CHANDIGARH: Pay of PU sports official slashed |
| | |
| | |
| | OPINIONS: Tainted ministers |
| | BUSINESS: MNCs line up to invest in Haryana |
| | |
| | WORLD: No MFN status to India: Pak |
| | |
QUOTE
I find that the courts also have a tendency to give the benefit of the doubt to the accused purely due to technical reasons of law.
A.P.J. Abdul Kalam
Obituary
Ideologue who steered CPM towards change
Kolkata, March 26
Senior CPM leader Anil Biswas, who died here today, will be remembered as an ideologue who successfully captained his party's transition in the state to adapt it to the
post-liberalisation scenario.

Kaithal murder: DSP arrested
Kaithal, March 26
In a major development, the district police today arrested Mr Dharam Veer, DSP (Jail) Karnal, for his alleged involvement in the murder of plywood dealer Narinder Arora, who was shot dead on March 17.

Quake rocks Bhutan-India border
Pune, March 26
An earthquake of moderate intensity measuring 5 on the Richter scale was recorded on Bhutan-India (Assam) border, Met Department sources said. The tremor was recorded at 11 hours 26 minutes yesterday, sources added. — PTI


Prince Charles, Camilla arrive
New Delhi, March 26
Prince Charles and his wife Camilla Parker Bowles arrived here this evening on a six-day visit to India, the first India visit of the Prince with his second wife. The visit is aimed at supporting environmental and conservation initiatives and to promote inter-faith understanding.


In video (28k, 56k)


Punjab page: Patiala ready to receive British royalty


E - Revolution 2005:
A Two-day IT conclave

Assembly Elections - 2005

Turbans

Chandigarh is 50

EARLIER FEATURES
Govt begins talks for consensus on office of profit
March 26, 2006

PM offers peace treaty to Pakistan
March 25, 2006
Sonia Gandhi quits Lok Sabha
March 24, 2006
2 killed, 13 hurt in Amritsar clash
March 23, 2006
India raises terror issue with Bangladesh
March 22, 2006
Bheora, 2 other Babbars arrested
March 21, 2006
BJP suspends Khurana
March 20, 2006
2 pilots killed in IAF plane crash
March 19, 2006
60 tonnes of uranium fuel for Tarapur
March 18, 2006