PUNJAB

HARYANA

JAMMU & KASHMIR

HIMACHAL

REGIONAL BRIEFS

NATION

OPINIONS

MAILBAG

BUSINESS

SPORTS

WORLD

CHANDIGARH

LUDHIANA

JALANDHAR
New

DELHI

JALANDHAR PLUS

AMRITSAR PLUS

LIFESTYLE
New

Saturday, April 22, 2006, Chandigarh, India
Updated at 3:00 am (IST)

King to hand over power to people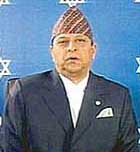 A betrayal, says Koirala
Kathmandu, April 21
Beleaguered King Gyanendra today offered to give up executive power and asked the seven-party alliance spearheading the pro-democracy movement to name a Prime Minister, but the parties were not enthused by his offer.


In video (28k, 56k)

New Delhi welcomes move
New Delhi, April 21
India today welcomed King Gyanendra's move to transfer executive power to a government constituted by the seven-party alliance which has been at the vanguard of the pro-democracy movement in the Himalayan Kingdom.
CAST YOUR VOTE
Do you think MS Dhoni is the best wicket-keeper batsman India ever had?



FORUM

EDUCATION

JOBS & CAREERS

HEALTH & FITNESS

SCIENCE & TECHNOLOGY

SPORTS

SOCIETY

TRIBUNE CLASSIFIEDS

BRIDES WANTED

GROOMS WANTED

OTHERS

HOW TO PLACE ADVTS
HOROSCOPE
In Sports Tribune today

Time for reorientation of civil services: Manmohan Singh
New Delhi, April 21
Asserting that the civil services has to reorient itself and be trained to deliver better services to the people, Prime Minister Manmohan Singh today put several posers before the country's civil servants, including whether the present method of recruitment was appropriate for inducting the right persons into government.


In video (28k, 56k)


Sleeping bureaucracy! — Secrateries taking a nap during Prime Minister Manmohan Singh's speech during the Civil Service Day function at Vigyan Bhavan in New Delhi on Friday.
— Tribune photo by Mukesh Aggarwal

Annoyed with red tape, martyr's kin turns 'whistle-blower'
Chandigarh, April 21
Assistant Sub-inspector Nanak Chand's family was not very hopeful till this morning about the nation recognising his sacrifice in the attack on Parliament on December 13, 2001. Fighting red tape for the past five year, when the Union Government promised to give the martyr's family a petrol pump that it said would be up and running in four months, the family out of frustration today approached the All India Anti Terrorist Front (AIATF).
Rs 50 hike in MSP of wheat
Chandigarh, April 21
In a major relief for farmers of the region, the Prime Minister, Dr Manmohan Singh, tonight ordered a hike of Rs 50 in the minimum support price of wheat. Wheat will now be procured at Rs 700 per quintal.

QUOTE
To make the government more efficient, we need a new public service orientation in the thinking of civil servants. You cannot view yourself as mere administrators. You are also managers. You have to manage change and manage efficient delivery of public services.
— Manmohan Singh

Mega projects: 6 Cong MLAs for 70 pc job reservation for Punjabis
Chandigarh, April 21
Six MLAs of the ruling Congress today urged the Punjab Government to reserve 70 per cent jobs for people of the state in the mega projects cleared by the government. (Details on Punjab page)

Missing papers on Partition to be made available
Islamabad, April 21
Historical papers providing vital information about the efforts of Mohammad Ali Jinnah and his associates for the creation of Pakistan will now be available at the National Documentation Centre that has acquired the "missing documents" from a Karachi-based family.
(Details on World page)


India to station MiG-29 fighter-bombers at Tajikistan base
New Delhi, April 21
India's first overseas military facility in Tajikistan is expected to become operational by the year-end as part of New Delhi's thrust into oil-rich Central Asia to meet its growing energy needs. The Indian Air Force (IAF) is to deploy a fleet of MiG-29 fighter-bombers at the airbase at Aini, 15 km from the Tajikistan capital Dushanbe.

E - Revolution 2005:
A Two-day IT conclave

Assembly Elections - 2005

Turbans

Chandigarh is 50

EARLIER FEATURES
Karan Singh returns with hope
April 21, 2006

Curfew in Kathmandu
April 20, 2006

Manu, 6 others get bail in Jessica case
April 19, 2006

SC refuses to halt work
April 18, 2006

No decision to stop work on dam: PMO
April 17, 2006

Narmada talks hit roadblock
April 16, 2006

5 dead, 33 hurt in Srinagar
April 15, 2006

CBI raids houses of top IAS, IFS officers
April 14, 2006

Iran enriches uranium
April 13, 2006

Meerut seethes with anger
April 12, 2006