FORUM

EDUCATION

JOBS & CAREERS

HEALTH & FITNESS

SCIENCE & TECHNOLOGY

SPORTS

Real Estate
New

SOCIETY

TRIBUNE CLASSIFIEDS

BRIDES WANTED

GROOMS WANTED

OTHERS

HOW TO PLACE ADVTS
HOROSCOPE
No fresh riders on nuke deal, says Boucher
Washington, May 26
Dismissing suggestions that the Indo-US civilian nuclear accord was in serious trouble, the Bush administration said today that though it was ready to show some flexibility to accommodate the views of Congress members, it was not prepared to impose conditions or introduce legislations at this point that can "break" the deal.
India hands over draft plan to US
London, May 26
India and the US have exchanged the drafts of the agreements that will enable the two countries to implement the bilateral civilian nuclear energy deal, Foreign Secretary Shyam Saran said.


India, Pak make headway on Sir Creek
New Delhi, May 26
It was movement forward on the Sir Creek issue today, but in a typical India-Pakistan style. At the end of the two-day talks at the level of Surveyors-General of the two countries, India and Pakistan today agreed on an early settlement of the land boundary in the Sir Creek area and the maritime boundary and to conduct a joint survey of the Sir Creek and adjoining areas and waters between November, 2006, and March, 2007.
Lessons in good manners for Punjab babus
Chandigarh, May 26
It seems like a curriculum for a class on protocol and decorum. The teacher is the Chief Secretary of Punjab, Mr K.R. Lakhanpal. The students are not the usual ones but are bureaucrats and police officers of the state.




In Sports Tribune today


FORUM
Forum provides our readers with an opportunity to express their views on some of the vital issues facing the country. The new question being posed is:
Should admissions to specialised courses be on the basis of caste or merit?
Readers are invited to mail their letters to:
forum@tribunemail.com
— H.K. Dua
Editor-in-Chief
Monsoon hits Kerala before time
New Delhi, May 26
The south-west monsoon has hit Kerala six days ahead of its usual onset over the Indian mainland. Satellite pictures released by the Indian Meteorological Department (IMD) showed monsoon active over a swathe of South India.

CBSE Class X results today
New Delhi, May 26
The results of the Class X examinations conducted by the CBSE will be declared tomorrow. The results for all regions, Delhi, Ajmer, Chennai, Guwahati, Chandigarh and Allahabad, will be announced simultaneously at 6 am, the Board said. — TNS

Link road to Amarnath shrine


Srinagar, May 26
The Governor, Lieut-Gen S.K. Sinha (retd), laid the foundation stone of 17.5-km-long link road at Baltal connecting it with the holy cave shrine of Amarnath. The road would be completed within two years. The work on this over Rs 20-crore project would be completed in two phases. — TNS



"Da Vinci Code", "Fanaa" released amid protests
Mumbai, May 26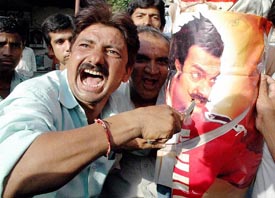 "Fanaa" and "The Da Vinci Code", two controversial films, were released in theatres across the country today, amidst protests in Gujarat and other places.

Activists of Meghani Nagar Youth Circle protest against film actor Aamir Khan for his support to the NBA movement in Ahmedabad on Friday. — PTI photo



Editorial: Code for misconduct

E - Revolution 2005:
A Two-day IT conclave

Assembly Elections - 2005

Turbans

Chandigarh is 50

EARLIER FEATURES
PM says autonomy to be discussed
May 26, 2006

PM proposes 5-point peace agenda
May 25, 2006

3 dead, 26 hurt as ultra rams car into BSF bus
May 24, 2006

2 quit PM's knowledge panel
May 23, 2006

Seven die as militants attack Congress rally
May 22, 2006

PM cautious on quota
May 21, 2006

Violent pro-quota medicos lathi-charged
May 20, 2006

CRASH OF 2006
May 19, 2006

Medicos to continue stir
May 18, 2006

PM to consult parties on quota issue
May 17, 2006

Doctors say no to Arjun
May 16, 2006