FORUM

EDUCATION

JOBS & CAREERS

HEALTH & FITNESS

SCIENCE & TECHNOLOGY

SPORTS

Real Estate
New

SOCIETY

TRIBUNE CLASSIFIEDS

BRIDES WANTED

GROOMS WANTED

OTHERS

HOW TO PLACE ADVTS
In Jalandhar Plus today
In Himachal Plus today


Medicos adamant on continuing strike


New loan scheme for OBC students on anvil


Bukhari for quota in government jobs


Pro-quota students to sue Shiv Khera
Petro prices may go up by Rs 2-3 this week
New Delhi, May 30
Petrol and diesel prices are likely to go up by Rs 2 to Rs 3 a litre this week, but the government is expected to spare consumers of kerosene and cooking gas from a price revision under the pressure of the Left parties.
President returns Office of Profit Bill
New Delhi, May 30
In a major embarrassment to the UPA government, President A.P.J. Abdul Kalam today returned the Prevention of Disqualification Amendment Bill on the Office of Profit to Parliament for reconsideration. It had been passed by the Lok Sabha and the Rajya Sabha in the just-concluded Budget Session.


| | |
| --- | --- |
| | PUNJAB: Council of Ministers to clear Tarn Taran as dist today |
| | |
| | HIMACHAL: Aiyar supports reservation policy |
| | |
| | CHANDIGARH: Medicos bring city down to its knees |
| | |
HOROSCOPE
FORUM
Forum provides our readers with an opportunity to express their views on some of the vital issues facing the country. The new question being posed is:
Should admissions to specialised courses be on the basis of caste or merit?
Readers are invited to mail their letters to:
forum@tribunemail.com
— H.K. Dua
Editor-in-Chief
Cop killed, 9 hurt in grenade attacks
Srinagar, May 30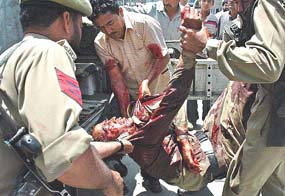 A police constable was killed and two policemen were among nine persons injured as militants carried out two grenade attacks in the crowded Goni Khan and Batmaloo areas of the city today.

Police personnel carry one of their colleagues injured in a grenade attack for treatment in Srinagar on Tuesday. — PTI photo


Cabinet Secy Chaturvedi gets year's extension
New Delhi, May 30
As expected and for reasons of continuity, Cabinet Secretary B.K. Chaturvedi has been granted a year's extension as the country's top-most civil servant till the middle of June 2007.
Sino-Indian military ties important: Jiabao
Beijing, May 30
A day after India and China signed a historic pact to further expand cooperation in defence sector, Chinese Premier Wen Jiabao today said that military-to-military ties were an important component in state-to-state relations.


In Health Tribune today


E - Revolution 2005:
A Two-day IT conclave

Assembly Elections - 2005

Turbans

Chandigarh is 50

EARLIER FEATURES
SC notice to govt on quota
May 30, 2006

Govt agrees to examine students' demand
May 29, 2006

Over 3,000 killed in Indonesia quake
May 28, 2006
Medicos meet PM
May 27, 2006
PM says autonomy to be discussed
May 26, 2006
PM proposes 5-point peace agenda
May 25, 2006
3 dead, 26 hurt as ultra rams car into BSF bus
May 24, 2006
2 quit PM's knowledge panel
May 23, 2006
Seven die as militants attack Congress rally
May 22, 2006