FORUM

EDUCATION

JOBS & CAREERS

HEALTH & FITNESS

SCIENCE & TECHNOLOGY

SPORTS

Real Estate
New

SOCIETY

TRIBUNE CLASSIFIEDS

BRIDES WANTED

GROOMS WANTED

OTHERS

HOW TO PLACE ADVTS
Under observation for 72 hrs
New Delhi, June 2
Rahul Mahajan is on a ventilator in the intensive care unit of Indraprastha Apollo Hospital. The hospital authorities said his toxicology report, expected tomorrow, would help them know whether Rahul had poisoning. They said Rahul would be under observation for the next 72 hours.
Who's done it? Why?
New Delhi, June 2
The Delhi Police is working overtime to narrow down on the three persons, which would indicate whether the death of Moitra and the hospitalisation of Rahul Mahajan was a part of a conspiracy. Senior police officials said once they had the CFSL report on the nature of the white powder that was recovered from the victims, it would be clear whether it was mixed with the Champagne.
Rahul was to carry Pramod's ashes to Assam
New Delhi, June 2
The late BJP leader Pramod Mahajan's son, Rahul Mahajan, was to carry the ashes of his father to Assam via Kolkata today for immersion in the Brahmaputra. According to party sources, Vivek Moitra, who died on his way to hospital, had spoken to BJP media convener Siddarth Nath Singh last night and discussed with him the schedule and arrangements to be made for the media coverage in Assam.
| | |
| --- | --- |
| | PUNJAB: Finally, Punjab gets its first veterinary university |
| | HARYANA: Top Haryana cops to be recommended for President's medal |
| | |
| | J&K: Geelani detained |
| | CHANDIGARH: Farmers get relief after 20 years |
| | LUDHIANA: Two stabbed to death at Civil Hospital |
HOROSCOPE
FORUM
Forum provides our readers with an opportunity to express their views on some of the vital issues facing the country. The new question being posed is:
Should admissions to specialised courses be on the basis of caste or merit?
Readers are invited to mail their letters to:
forum@tribunemail.com
— H.K. Dua
Editor-in-Chief
HC rejects Malaysian citizen's plea for custody of children
Chandigarh, June 2
In a ground-breaking judgment, the Punjab and Haryana High Court has refused the plea of a Malaysian citizen for grant of custody of his two children, whom, he had alleged, his wife had "illegally brought to India".

4 of family die as stockpile of crackers explodes
Punhana(Mewat), June 2
Four members of a family involved in illegal manufacturing and sale of firecrackers died when the stockpile in their house in Hatan village, about 15 km from here, exploded in the afternoon.
Filing returns no more "saral"
New Delhi, June 2
Income tax assessees who have been saving tax by hiding their income would now find it difficult as the government has decided to replace the one-page Saral form with a four-page form to trace undisclosed income of taxpayers.



Pak not ready to lift ban on Indian films
New Delhi, June 2
India and Pakistan today explored bilateral cooperation in a wide range of areas like arts and culture, ayurvedic and Unani medicine, media, archaeology and education, but stopped short of making specific announcements.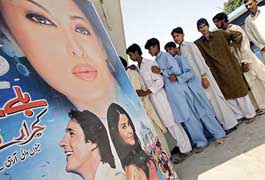 Pakistani people line up to buy tickets for Indian film star Aishwarya Rai's film "Bride & Prejudice" at a cinema in Rawalpindi on Friday. Although Indian classical movies have been screened for years in Pakistan, the screening of this film appears to be an important move towards the normalisation of relations between the South Asian neighbours in the cultural field. — AFP photo

In Sports Tribune today


E - Revolution 2005:
A Two-day IT conclave

Assembly Elections - 2005

Turbans

Chandigarh is 50

EARLIER FEATURES
Terror at Nagpur
June 2, 2006

Medicos end stir
June 1, 2006

Joyride ends in tragedy
May 31, 2006

SC notice to govt on quota
May 30, 2006

Govt agrees to examine students' demand
May 29, 2006

Over 3,000 killed in Indonesia quake
May 28, 2006
Medicos meet PM
May 27, 2006
PM says autonomy to be discussed
May 26, 2006
PM proposes 5-point peace agenda
May 25, 2006
3 dead, 26 hurt as ultra rams car into BSF bus
May 24, 2006
2 quit PM's knowledge panel
May 23, 2006
Seven die as militants attack Congress rally
May 22, 2006