Packed out lock, stock and barrel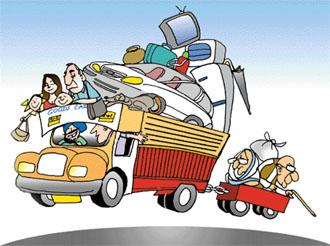 More and more people choose movers and packers to shift base, says Peeyush Agnihotri
Most of the jobs come with jabs of transfer. Rather, change of base is an indissoluble part of life. Except for a clutch of blessed few, most of the MNC executives, government officials and job-hoppers have to undergo the pangs of shifting base at one stage of life or another. Shifting, sparked either by personal or professional reason, invariably comes with an extra shot of nightmare.
Baddi units prefer prefabs
Entrepreneurs, in an attempt to curtail expenses and meet deadline, are going in for erect-and-assemble structures, notes Bipin Bhardwaj
In an attempt to save money and time, a majority of industrial units coming up in Baddi and Barotiwala industrial areas are going in for prefabricated structures, instead of concrete buildings. The trend has picked up over the last year.
Double whammy for housing sector!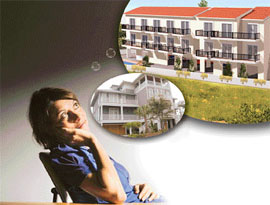 Construction industry spiked by choppy Sensex and hike in home loan rates, says Shiv Kumar
The air seems to be escaping out of the housing and real estate bubbles that grew in size over the past three years. The months of May and June are proving to be decisive to the real estate industry as the stock market remains volatile and rising home loan interest rates portend a prolonged slump reminiscent of the slowdown of the '90s.


Housing becomes a pipedream
Congress MP from Kurukshetra in Haryana may be thinking to buy a house in New Delhi for Rs 150 crore, but housing is becoming a pipedream for the majority of middle and lower-middle class in India.
Waknaghat woes!
Landowners anguished over Himachal's first planned township, reports Ambika Sharma
Waknaghat, which shot into prominence with the opening of Jay Prakash University of Information Technology in Solan district, may soon be recognised for having the first planned township of Himachal.


Global Realty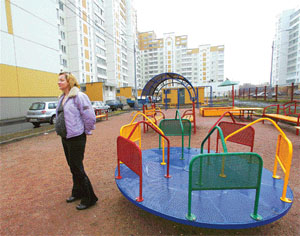 Irina Tarasenko stands in the playground in the compound of a newly built block of flats in Moscow. Tarasenko paid $50,000 for her one-room property when the building was still on the drawing board. It was finished last year but no one could move in because it turned out the developer had sold the same apartments to two or more different buyers. — Reuters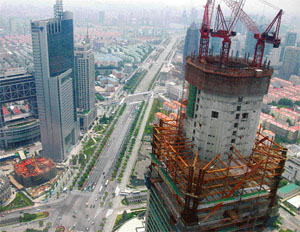 The World Financial Centre is under construction in Shanghai. The 101-story, 492-meter-tall building will be one of the tallest in the world after its completion in 2008. The building is currently at a height of 200 meters. — AFP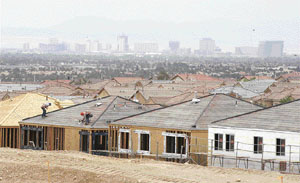 Hotel-casinos on the Las Vegas Strip are seen behind an area of new home construction in Las Vegas. After years of skyrocketing real estate prices, Las Vegas' housing market hit a new record for unsold homes and condominiums in May 2006, and developers are beginning to drop prices as the supply of new houses exceeds the demand. Despite the glut of housing, construction in Las Vegas continues unabated as thousands of new residents continue to flock to the city for work. — AFP

Focus on low-cost housing
To bring a major chunk of people under low-cost housing scheme is an uphill task for any government. During the past two decades, housing conditions of our metropolitan and large cities have deteriorated at an alarming rate.

TAX tips


Rent rebate for separate floors possible for husband, wife
Q. My wife is a Punjab government employee whereas I am a Central one. We both are drawing HRA. We have taken on rent the ground and top floor of the same house. Whereas my wife is paying rent for ground floor, I am paying for the top floor. Now, kindly clarify whether my wife and I can claim house rent rebate u/s 10(13A) for ground floor and top floor separately from our respective departments by producing rent receipts.

City of Garden expands
Get hold of an apartment is the first advice given to any new entrant to Bangalore. As most of them are techies, or people working in the IT sector, the advice is well meant.

Buzz on Bourses
Majestic ties up with Ansals
New Delhi: Majestic Properties, a real estate player of Delhi, has joined hands with Ansal Properties and Infrastructure for a joint venture to develop a Rs 500-crore project in Mohali spread over 250 acres.

SEZ firms may come under Right to Information Act
The Reliance, DLF and other big players investing in special economic zones (SEZs) could be soon asked to provide information under the Right to Information (RI) Act, as they would be getting subsidised land from the state governments.

Estate talk
Buyer to select the cost of interiors
Ludhiana-based GK Builders has chalked out a plan to develop several societies in "good locations" wherein the company would provide apartments between Rs 14 lakh and Rs 20 lakh.

DESIGNER'S corner
Jazz up hearth and home
Fireplaces can be ornamental too, suggests A.P. Singh
With the rising trend to explore outdoor parties and summer barbeque to chill out, let's analyse a décor feature which looks stunning both inside your home and outside in the garden. Fireplaces look stylish, add warmth to your home both figuratively and literally and if used innovatively, can be a source of feeding your belly too.

Builders go flat!
Apartment bug bites mofussil towns in Punjab, says Pradeep Sharma
As far as new constructions are concerned, Chandigarh's periphery is bursting at seams. However, the plotted colonies are becoming a thing of the past. With the land prices hitting the roof, multi-storeyed flats have replaced the plotted colonies.

Commercial ventures thrive in residences
People have converted residential plots into commercial sites in Gurgaon, notes Ravi S.Singh
Thousands of persons representing the high-heeled section of the society residing in posh colonies of the city have devised a paying but illegal way to enhance their income and status by taking the advantage of the high rise in value of real estate in Gurgaon on one hand and colluding with officialdom on the other.


Hike in collector rates resented
The recent hike in collector rate of property in Ambala has added a fresh dimension to the real estate scenario. There has been a substantial increase in collector rate of residential as well as commercial property. The hike will prove to be a major revenue earner for the government. But, for the common people who are keen to buy property, the increase in collector rate has not been a pleasant information.