CHANDIGARH

LUDHIANA

JALANDHAR
New

DELHI

HIMACHAL PLUS
New

AMRITSAR PLUS

LIFESTYLE
New

BRIDES WANTED

GROOMS WANTED

OTHERS

HOW TO PLACE ADVTS
News Analysis
India breaking out of nuclear apartheid
Among our nuclear scientific establishment, sections of the media and academia and some of our political parties, both on the right and the left, there is an understandable fear of the Indo-US nuclear deal getting India entrapped.



Opinions page: Some issues to ponder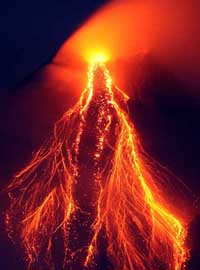 Lava cascades down the slope of Mayon volcano near Legazpi City, south of Manila, on Saturday. — Reuters
Punjab moves SC for land allotment to two IT firms
New Delhi, August 19
The Punjab Government, incapacitated by the Supreme Court stay on allotment of industrial plots in Mohali over a dispute on the change of land use plan, has moved the apex court for permission to allot 64 acres of land to the TCS and Wipro to set up their units there as part of Chief Minister Amarinder Singh's initiative to develop it as a major IT hub.
IAF probing identity of flying object
New Delhi, August 19
The Indian Air Force (IAF) has launched investigations to determine the identity of a flying object which almost came close to the International Border in Rajasthan sector forcing a scramble of main line fighter jets MiG-21s for a possible cross over by a jet from Pakistan.


E - Revolution 2005:
A Two-day IT conclave

Assembly Elections - 2005

Turbans

Chandigarh is 50

EARLIER FEATURES
HOROSCOPE
QUOTE
You have to make some difficult decisions as a captain. It is not always easy. It sort of comes with the job.
— Rahul Dravid
Mumbaikars cry miracle as sea water turns sweet
Mumbai, August 19
Several thousand people rushed to the sea behind Mahim dargah in Mumbai on Friday night after word spread that the usually salty water had turned sweet.
(Details on Nation page)

Parties to hold conferences at Longowal today
Chandigarh, August 19
Tomorrow will be a big day for all major political parties which will be holding their conferences on the martyrdom day of Sant Harchand Singh at Longowal in Sangrur district. (Details on Punjab page)

South Asian Games
Swimmers rule the pool
Colombo, August 19
Rehan Poncha and Rohit Hawaldar won a gold and a silver, respectively, in men's 400 meter freestyle while V. Tejaswani managed a women's 100 meter breast stroke silver for India on the opening day of aquatics event at the South Asian Games here today. (Details on Sports page)


Thar Express enters Pak
Jaipur, August 19
The first Thar Express operated by Indian Railways crossed the border into Pakistan today after a delay of more than six hours at Munabao station in Rajasthan's Barmer awaiting clearance from Pakistan railway authorities.
In Society today
President clears 'Profit' Bill
August 19, 2006

PM's reply mellows CPM on N-deal
August 18, 2006

Crisis in Punjab as 6 power units collapse
August 17, 2006

PM tells Pak to take steps to prevent terror
August 16, 2006
LTTE bid to kill Pak envoy
August 15, 2006
NRI son among terror suspects
August 14, 2006
Barnala's son held on rape charge
August 13, 2006
US warns of terror attacks in India
August 12, 2006
Midair terror plot foiled
August 11, 2006
Key inputs ignored: Natwar
August 10, 2006