Where peace reigns supreme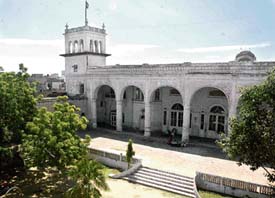 The sleepy, underdeveloped town of Malerkotla wears many badges. It is the vegetable capital of Punjab, nursery of poets and athletes, workplace of artisans and craftsmen. The most heartening, finds Maneesh Chhibber, is its history of communal amity
ON July 30, Sajida Begum (66), an ex-MLA and wife of the late Iftekhar Ali Khan, the Nawab of Malerkotla, passed away after a prolonged illness at a hospital in Mohali.

Today, Sheesh Mahal in Malerkotla has many claimants

'Malerkotla has Guru's blessings'


What's the dispute about
My movie is not romantic, but realistic
A wanderer by nature and a filmmaker by choice, Gaurav Jani is among the new breed of talented directors today. His documentary Riding Solo to the Top of the World won the National Critics Jury Award and Golden Conch for Best Documentary Film / Video at the Mumbai International Film Festival. Jani talks to Ritusmita Biswas about his film, his passion for bikes and wanderlust.
IT is a movie with a difference. It captures the unique experience of a solitary traveller who rides his motor cycle all the way from Mumbai to one of the remotest places in the world, the Changthang plateau in Ladakh, bordering China.
Choco that won't melt in summer
Here's good news for all you chocolate aficionados who lament when their crispy bars melt into a podgy lump due to the summer heat. Scientists have now come up with a mouthwatering invention, which could change the lives of chocoholics in the summer, by creating a type of chocolate that does not melt in the heat.
Selling happiness
Lamat R. Hasan
Not very long ago finding true happiness was a very personal journey. But like everything else happiness is up for sale and the "happiness industry" is increasingly targeting youth.