ADVERTISEMENT
ADVERTISEMENT

CHANDIGARH

LUDHIANA

JALANDHAR
New

DELHI

HIMACHAL PLUS
New

AMRITSAR PLUS

LIFESTYLE
New

BRIDES WANTED

GROOMS WANTED

OTHERS

HOW TO PLACE ADVTS

E - Revolution 2005:
A Two-day IT conclave

Assembly Elections - 2005

Turbans

Chandigarh is 50

EARLIER FEATURES
Major fire at RIL refinery
Jamnagar, October 25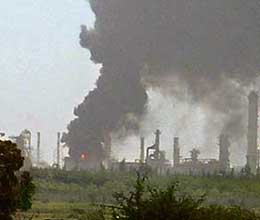 A major fire today destroyed one of the oil processing facilities at the Reliance refinery here, but company chairman Mukesh Ambani said there would be no production loss.

Smoke billows from a refinery that caught fire at Reliance Petrochemicals in Jamnagar on Wednesday. — PTI photo


LPG supply may be hit
New Delhi, October 25
With a major fire breaking at Reliance refinery at Jamnagar in Gujarat - Asia's biggest refinery - the country may face a shortfall of domestic gas supply during the ongoing festival season. Though the government said one lakh tonnes of LPG would be imported to offset any shortfall of the fuel.

Domestic Violence Act comes into effect
New Delhi, October 25
Husbands be careful, as from tomorrow onwards beating or insulting your wife can land you in jail with a fine up to Rs 20,000. The Protection of Women from Domestic Violence Act 2005 comes into effect from October 26, aiming to provide protection to wife or female live-in partner from the husband or male live-in partner and also his relatives.



India: The Tasks Ahead
SPECIAL SUPPLEMENT
125TH ANNIVERSARY CELEBRATIONS,
INAUGURAL SESSION
In Amritsar Plus today
Baba Budhaji function marred by SAD-SAD (A) clash
Kathunangal, October 25
The 500th birth anniversary celebrations of Baba Budhaji — the first head granthi of the Golden Temple — was marred when leaders of the Shiromani Akali Dal (Badal) clashed with activists of the SAD (Amritsar), leaving many injured from both sides.
| | |
| --- | --- |
| | Shiromani Akali Dal (Amritsar) chief Simranjit Singh Mann with his supporters after a clash with activists of the Gurdaspur SAD jatha and the SGPC task force at Kathunangal on Wednesday. — Photo by Rajiv Sharma |
Pension for TA staff likely
Kozhikode, October 25
The government is actively considering providing pension to personnel who had completed at least seven years embodied service in the Territorial Army, a senior officer has said.
Bank strike tomorrow
Vijayawada, October 25
About nine lakh bank employees from the public and private sectors and the foreign banks in the country would go on a day-long strike on October 27 to press their demands. Details on Nation page.
Punjab annex Santosh Trophy
Gurgaon, October 25
Punjab ended a two-decade-long title drought by winning their seventh Santosh Trophy defeating Bengal 5-3 in a thrilling penalty shootout here today.
Details on Sports page.


HOROSCOPE
Antony gets Defence
October 25, 2006


ISI trying to subvert forces, says Pranab
October 24, 2006

Bill on judges' accountability in Parliament soon
October 23, 2006

Government consults CMs on OBC reservation
October 21, 2006

SC upholds quota in promotions
October 20, 2006
11th Plan to target 10 per cent growth
October 19, 2006
India-Pak Foreign Secys' talks on Nov 14, 15
October 18, 2006
SC pulls up government on quota in IITs, IIMs
October 17, 2006
Debate against death penalty picks up momentum
October 16, 2006
UN slaps sanctions on N. Korea
October 15, 2006
Gujarat HC nullifies Banerjee Committee
October 14, 2006