ADVERTISEMENT
ADVERTISEMENT

CHANDIGARH

LUDHIANA

JALANDHAR
New

DELHI

HIMACHAL PLUS
New

AMRITSAR PLUS

LIFESTYLE
New

BRIDES WANTED

GROOMS WANTED

OTHERS

HOW TO PLACE ADVTS

E - Revolution 2005:
A Two-day IT conclave

Assembly Elections - 2005

Turbans

Chandigarh is 50

EARLIER FEATURES
In Health & Fitness today
RBI takes steps to contain inflation
* Hikes repo rate * Bank rate unchanged
* No change in home loans
Mumbai, October 31
In a bid to contain inflation, the Reserve Bank of India (RBI), in its Mid-Term Review of Annual Policy for 2006-07, today announced an increase in repo (overnight) rate by 0.25 per cent from 7 to 7.25 per cent.
Panel, MCD move SC on sealing
New Delhi, October 31
The Supreme Court appointed monitoring committee, overseeing the sealing operation against illegal shops in residential areas in the national capital as well as Municipal Corporation of Delhi today moved the Supreme Court raising different questions on the sealing issue.



Delhi page: Day two of bandh passes peacefully


Editorial: Sealing the law

In video (56k)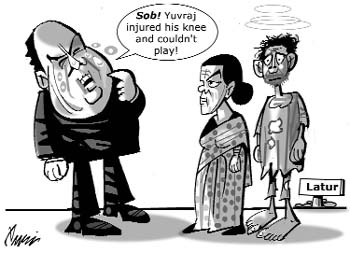 New Delhi, October 31
The Navy has put in place a specialised organisation to ensure safety of top secret information and of warships at sea, new Naval chief Admiral Sureesh Mehta said today after taking over the hot seat.
In video (56k)


New Chief of Naval Staff, Admiral Sureesh Mehta (left) and outgoing Naval Chief Arun Prakash in New Delhi on Tuesday. —Tribune photo by Mukesh Aggarwal

India: The Tasks Ahead

SPECIAL SUPPLEMENT

125TH ANNIVERSARY CELEBRATIONS,
INAUGURAL SESSION



In Himachal Plus today
In Jalandhar Plus today
In Jobs & Careers today
Dalal new Haryana DGP


Chandigarh, October 31
The Haryana Government has appointed Mr Ranjiv Singh Dalal, a 1974 batch IPS officer, as the DGP of the state following Mr Nirmal Singh's retirement today.

Ranjiv Singh Dalal
6 accused of Raghunath Temple attack acquitted
Jammu, October 31
Passing strictures on the police, a court here has acquitted all six accused in the 2002 terrorist attack at the famous Raghunath Temple here that claimed 11 lives.
Azad says he did not seek clemency for Afzal
New Delhi, October 31
Facing criticism over reports that he had sought clemency for Parliament-attack case convict Mohammed Afzal, Jammu and Kashmir Chief Minister Ghulam Nabi Azad today said he had not taken up the issue with the Prime Minister but he was personally against death sentence.



AG declines contempt petition against Abdullah
Soldier shoots Army officer
Srinagar, October 31
A senior Indian Army officer was shot dead by an enraged soldier in an Army camp near Srinagar this afternoon.


Motivating beggars to check AIDS
Patna, October 31
With close to 10,000 AIDS/HIV related cases in the state, the Nitish Kumar-led NDA government in Bihar is contemplating a novel rehabilitation involving beggars to raise the awareness campaign against this deadly disease.
HOROSCOPE
Mattoo killer to be hanged
October 31, 2006

Talks on to defuse Bangladesh political crisis
October 30, 2006

First arrest under new law
October 29, 2006

Centre defers decision on wheat MSP
October 28, 2006

Terrorism most dangerous threat, says Manmohan
October 27, 2006


Indo-Pak back channel parleys gather steam
October 26, 2006


Antony gets Defence
October 25, 2006


ISI trying to subvert forces, says Pranab
October 24, 2006

Bill on judges' accountability in Parliament soon
October 23, 2006

Government consults CMs on OBC reservation
October 21, 2006