Change, not all for good
Locations assume immense significance in narrative of lives. Homi K. Bhabha in his book "The Locations of Cultures" reiterates that locations have vital importance to reorientalise the cultural configurations and they stick in ours memories like live associations. During my stay away from my native city Amritsar, this happened with me too.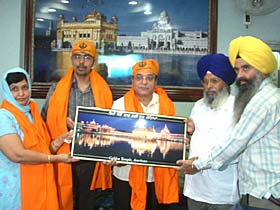 Mr Arun Talwar, Director, Rajasansi International airport along with his family being honoured at the information office of the Golden Temple. — Photo by Rajiv Sharma
400 medical posts lying vacant
Even as the Ayurvedic and Homeopathic systems of medicine are gaining importance worldwide, these two systems are being ignored in Punjab.
H.P. Singh chief of GND varsity body
Dr H.P. Singh, Senior Medical Officer, Guru Nanak Dev University, was elected as president of the Guru Nanak Dev University Officers Association at the election held here today.
Rotary honours achievers
To receive honour from their own brethren was satisfying for the five top achievers of the city who had turned the tide in their favour through grit and determination.
Commercial activities in residential areas
Even after the Supreme Court order commercial activities are being carried out in the Ranjit Avenue area here.


Fashion parade in college
Women empowerment is the key to the progress of any nation ,said the Vice Chairman of DAV College Managing Committee, Mr R. S. Sharma , inaugurating the cultural programme evening at the five-day international conference cum workshop on the Impact of Technological Revolution on Visual Arts.

Students of BBK DAV College for Women sashay on the ramp during a fashion show in college. — Photo by Rajiv Sharma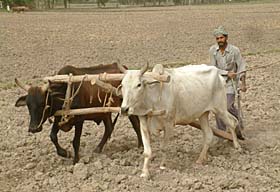 A farmer tills his land in a border village of Amritsar district. — Photo by Rajiv Sharma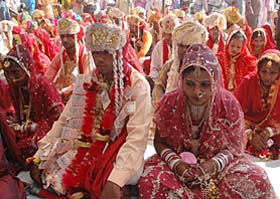 The Punjab Sheduled Caste Vikas Manch and Shri Valmiki Naujwan Sabha organised a mass marriage in Amritsar. — A Tribune photograph
Quiz — new way for docs to exchange information
Four top hospitals, including government medical institutes of the city, have adopted a unique way to exchange information regarding latest and advance 'critical care' techniques — by holding interactive quiz contest.
UGC grant for Botany don
The University Grants Commission (UGC) has sanctioned a research project amounting to Rs 3 lakh to Dr Renu Bhardwaj, Reader, Botanical and Environmental Sciences Department, Guru Nanak Dev University, for holding a sensitisation and awareness workshop under UGC programme on "Capacity building for women managers in higher education" as its coordinator.
Cadets educate rural people
NCC Air Wing Cadets of DAV College, Amritsar, interacted with the residents of Ghanupur Colony, Chheharta town in the border district of Amritsar recently.
Cassette released
A musical evening dedicated to the memory of the 'Nightingale of Punjab', Surinder Kaur was held at Punjab Naatshala. "Vele Shaguna De", a cassette of Punjabi folk songs by Dr Jatinder Kaur, Lecturer in music, Khalsa College for Women, was also released.