CHANDIGARH

LUDHIANA

JALANDHAR
New

DELHI

HIMACHAL PLUS
New

AMRITSAR PLUS

LIFESTYLE
New
ADVERTISEMENT

BRIDES WANTED

GROOMS WANTED

OTHERS

HOW TO PLACE ADVTS
HOROSCOPE
It is back to PSU dilution, HZ on chopper
New Delhi, November 10
Four months after Prime Minister Manmohan Singh put all disinvestment plans on hold following stiff opposition from the Left parties and a pull-out threat by the DMK, the Centre proposes to once again dilute its stake in public sector undertakings (PSUs).
Grenade attack near Pulwama mosque, 4 kids killed
Srinagar, November 10
Three teenaged girls and two boys were killed and at least 35 injured in a grenade explosion near a mosque in Tahab village of Pulwama district, 35 km south of here, this afternoon.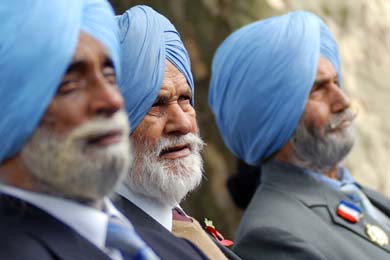 Sikh men attend a remembrance service for the five million people from the Indian sub-continent, Africa and the Caribbean who served with Britain in the two world wars in Hyde Park in central London on Friday. — AFP


E - Revolution 2005:
A Two-day IT conclave

Assembly Elections - 2005

Turbans

Chandigarh is 50

EARLIER FEATURES
Clarify stand on CPS, PS, says SC
New Delhi, November 10
The Supreme Court today directed the Centre to take a clear stand on the issue of appointment of Parliamentary Secretaries by various states, specially Punjab, Haryana and Gujarat akin to Himachal Pradesh where it was struck down by the state High Court for "circumventing" the 91st constitutional amendment on downsizing the ministries.
War room leak: Another former officer arrested
New Delhi, November 10
The CBI today arrested another former Naval officer, Commander J.C Kalra, in connection with the sensational Navy 'War Room' leak case for allegedly leaking classified information that affected national security.


Yatra: It's official, says Amarinder Singh
Chandigarh, November 10
After days of speculation over of who will bear the cost of Capt Amarinder Singh's much publicised "Vikas Yatra", it has been finally designated as an "official function". The logic is that the Chief Minister is entitled to publicise the development work he did for the state during his tenure.
Help! Cops say CM too fast for them
The Punjab Police has sought high-end sports utility vehicles (SUVs) for providing a security cover to the Chief Minister, Capt Amarinder Singh, during the Punjab Vikas Yatra and also during the election campaign.

(Details on Punjab page)
In Sports Tribune today
Cabinet nod for Judges Inquiry Bill
November 10, 2006

BY GEORGE, WHAT AN AMBUSH!
November 9, 2006
SEALED & SHUT
November 8, 2006
Sealing on, govt in a bind
November 7, 2006
Death for Saddam, 2 aides
November 6, 2006
4 killed in Puri temple stampede
November 5, 2006
Manu seeks new Bench
November 4, 2006
Carry on sealing: SC
November 3, 2006
Give traders more time: Centre
November 2, 2006
Prices of 866 medicines slashed
November 1, 2006