Foreign Secys of India, Pak to hold talks today
New Delhi, November 13
When the two-day Foreign Secretaries' level talks between India and Pakistan start here tomorrow, one concrete result that both sides are hoping to announce is an institutionalised joint mechanism on combating terror.



Siachen panel on the job


Pak not to scale down Wagah ritual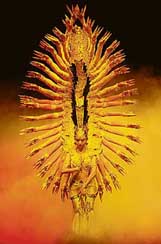 In this photo released by China's Xinhua news agency, members of the Chinese Art Ensemble of the Handicapped perform a dance named "Mother Buddha" at the Xinjian People's Hall in Urumqi, northwest China, on Saturday. — AP/PTI
UPA-Left fail to agree on oil prices
New Delhi, November 13
The impasse over the reduction of petrol prices continues with the UPA-Left coordination committee tonight failing to reach an agreement, even as the international crude oil prices was quoted around $58 per barrel.
Farmers' suicides rose after 1992
Most victims were young
Chandigarh, November 13
While tracing the main reasons behind suicides in rural Punjab, especially in the farm sector, it has come to light that the increase in the suicide rate showed a steep hike after 1992.
SC rejects farmers' plea against Reliance SEZ
New Delhi, November 13
The Supreme Court today refused to intervene in the acquisition of a huge chunk of land from farmers for the Reliance Industry's special economic zone (SEZ) by the Gujarat Government.
Centre open to talks with ULFA
Asks rebel group to specify dates
New Delhi, November 13
In a slight climbdown, the Centre today asked the outlawed outfit ULFA (United Liberation Front of Asom) to specify "only exact date" for resumption of direct talks to restore peace in Assam.