CHANDIGARH

LUDHIANA

JALANDHAR
New

DELHI

HIMACHAL PLUS
New

AMRITSAR PLUS

LIFESTYLE
New

BRIDES WANTED

GROOMS WANTED

OTHERS

HOW TO PLACE ADVTS
In Amritsar Plus today
Amritsar: Brar also in race
New Delhi, January 19
As the Congress struggles to find a suitable candidate for the prestigious Amritsar seat, former MP and senior party leader from Punjab Jagmeet Singh Brar's name has been added to the lengthening list of contenders.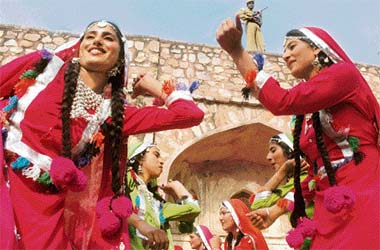 NACH KUDIYE: Folk dancers from Barnala presents the sammi dance at a press preview of the Lok Tarang National Folk Dance Festival 2007 while a security person keeps vigil in the Capital on Friday. — Tribune photo by Mukesh Aggarwal
Liquor to be cheaper in Haryana
Chandigarh, January 19
A reduction in the minimum price of liquor, a cut of Rs 10 in excise duty for defence personnel, abolishing of the licence for serving liquor at parties and the sale of wine at shopping malls are some of the features of Haryana's excise policy for 2007-08, which was approved by the Cabinet here today.


India: The Tasks Ahead
SPECIAL SUPPLEMENT
125TH ANNIVERSARY CELEBRATIONS,
INAUGURAL SESSION



In Sports Tribune today
HOROSCOPE

FORUM
Forum provides our readers with an opportunity to express their views on some of the vital issues facing the country. The new question being posed is:
How can Indian hockey be saved?
The answers can be
e-mailed to:
forum@tribunemail.com
H.K. Dua
Editor-in-Chief

Chahal to attend all hearings in DSPs' appointment case
Chandigarh, January 19
In a major setback to Mr B.I.S Chahal, the Media Adviser to the Chief Minister, Punjab, who is facing contempt proceedings for interfering in administration of justice, the Punjab and Haryana High Court today ordered that the proceedings would now be taken up on day-to-day basis from January 22.


Chhattisgarh, Nagaland get new Governors
New Delhi, January 19
Former Director of Intelligence Bureau E. S. L. Narasimhan and former Kerala Finance minister K. Shankaranaryanan have been appointed the Governors of Nagaland and Chhattisgarh, respectively.
H.K. Dua honoured
Pune, January 19
Mr H.K. Dua, Editor-in-Chief of The Tribune Group of Newspapers, was conferred the honour of Professor Emeritus of Symbiosis Institute of Mass Communication at a function here today.


No place for woman next door in politics
Those from influential families alone favoured for ticket
Chandigarh, January 19
Yet again, it has been a smooth run only for the politically powerful women in Punjab. One look at the official lists of principal political parties and you know the woman next door has no place in state politics.

E - Revolution 2005:
A Two-day IT conclave

Assembly Elections - 2005

Turbans

Chandigarh is 50

EARLIER FEATURES
Mulayam must quit, says Cong
January 19, 2007
Congress leaves Mulayam
January 18, 2007
Jolt for Badal as Delhi votes Sarna way
January 17, 2007
PM: Pacts on Siachen, Sir Creek far away
January 16, 2007
Boost border talks, say Manmohan, Wen
January 15, 2007
PoW kin welcome: Pervez
January 14, 2007
SC cancels 'tainted' NDA-given oil outlets
January 13, 2007
Supreme Court asserts
January 12, 2007
Expulsions fine: SC
January 11, 2007
Bodies of four children found from Brar's mill
January 10, 2007