PUNJAB

HARYANA

JAMMU & KASHMIR

HIMACHAL

REGIONAL BRIEFS

NATION

OPINIONS

MAILBAG

BUSINESS

SPORTS

WORLD
ADVERTISEMENT
ADVERTISEMENT
ADVERTISEMENT
Tuesday, January 23, 2007, Chandigarh, India
Updated at 3:00 am (IST)

SRE-1 brought home
Bangalore, January 22
The Indian space programme today entered a new league with the Indian Space and Research Organisation (ISRO) demonstrating its ability to recover an orbiting satellite and bringing it back to earth successfully for the first time in its history.



Well done, says Kalam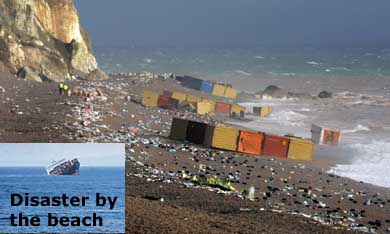 Debris litters the area around the shipping containers washed up on the beach at Branscombe, Devon, UK, following the beaching of the cargo ship MSC Napoli (inset) after it was holed during storms. The ship was carrying almost 2,400 containers, about 150 of which are said to hold hazardous chemical substances.The drifting vessel was being towed to Portland Harbour in Dorset for a salvage operation, but the Maritime and Coastguard Agency decided to beach it in Lyme Bay, near Sidmouth, instead, following the structural failure. — AFP
Pension fund set to enter stock market
New Delhi, January 22
The UPA government said today that it would allow a portion of the pension fund to be invested in stock market, despite opposition from Left parties, as 19 states have backed the move.


In video (56k)
CAST YOUR VOTE
Should the laws made under the Ninth Schedule of the Constitution be reviewed?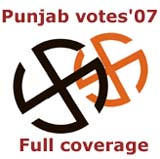 ADVERTISEMENT

CHANDIGARH

LUDHIANA

JALANDHAR
New

DELHI

HIMACHAL PLUS
New

AMRITSAR PLUS

LIFESTYLE
New

BRIDES WANTED

GROOMS WANTED

OTHERS

HOW TO PLACE ADVTS

In Education Tribune today
Cong manifesto to skip SEZ issue
New Delhi, January 22
As the controversy over the sensitive issue of special economic zones (SEZs) continues unabated, the Congress has decided it will be wise not to dwell on the matter in the party's election manifesto for Punjab.


Bangalore limps back to normal
Bangalore, January 22
The IT capital today started limping back to normal under the watchful eye of Central and state forces after three days of strife.


In video (56k)



India: The Tasks Ahead
SPECIAL SUPPLEMENT
125TH ANNIVERSARY CELEBRATIONS,
INAUGURAL SESSION

| | |
| --- | --- |
| | |
| | HARYANA: Report on Gurgaon violence ready |
| | HIMACHAL: Memory test record by 3 youths |
| | |
| | CHANDIGARH: SHO held for 'molesting' SI |
| | LUDHIANA: Rebel Bagga files papers |
| | |
| | OPINIONS: Re-right the wrongs |
| | BUSINESS: Excise duty cut on diesel in the offing |
| | NATION: CM assures protection to Tata |
| | WORLD: 65 killed in central Baghdad |
| | SPORTS: Sharapova, Hingis in last eight |
HOROSCOPE
FORUM
Forum provides our readers with an opportunity to express their views on some of the vital issues facing the country. The new question being posed is:
How can Indian hockey be saved?
The answers can be
e-mailed to:
forum@tribunemail.com
H.K. Dua
Editor-in-Chief

Putin visit to cement space ties
New Delhi, January 22
India and Russia are set to deepen their cooperation in space-related matters in a big way during Russian President Vladimir Putin's visit here later this weekend when India will formally join GLONASS, Russia's radio satellite navigation system which is a fully operational alternative to the American Global Positioning System.
Pranab leaves for Kabul today
New Delhi, January 22
External Affairs Minister Pranab Mukherjee will hold talks with a wide range of Afghanistan's leadership in Kabul. He leaves tomorrow for an overnight visit to the country.


Punjab Votes' 07
Three men trip — Badal, son, Sant
Badal files papers amid code violation
Malout, January 22
A former Chief Minister and SAD president, Mr Parkash Singh Badal, today filed his nomination papers from the Lambi Assembly constituency here amid violation of the Model Code of Conduct.
Doesn't own a car

Sukhbir flouts poll code
Gidderbaha, January 22
A case of violation of the Model Code of Conduct came to the fore in Gidderbaha when a helicopter landed in the town to pick up SAD general secretary Sukhbir Singh Badal.


Sant gets notice from RO
Ropar, January 22
The SDM-cum-Returning Officer, Ropar, Mr Parminder Singh Gill, today issued a notice to the SAD patron Sant Ajit Singh. The Sant was accompanied by party workers in a cavalcade of vehicles, when he came to file his papers.


E - Revolution 2005:
A Two-day IT conclave

Assembly Elections - 2005

Turbans

Chandigarh is 50

EARLIER FEATURES
Tatas begin work at Singur
January 22, 2007

EC clears Gill as new Punjab police chief
January 21, 2007

Inflation soars to 2-yr high
January 20, 2007

Mulayam must quit, says Cong
January 19, 2007
Congress leaves Mulayam
January 18, 2007
Jolt for Badal as Delhi votes Sarna way
January 17, 2007
PM: Pacts on Siachen, Sir Creek far away
January 16, 2007
Boost border talks, say Manmohan, Wen
January 15, 2007
PoW kin welcome: Pervez
January 14, 2007
SC cancels 'tainted' NDA-given oil outlets
January 13, 2007