Monday, April 2, 2007, Chandigarh, India
Updated at 3:00 am (IST)

Maoists join interim Nepal govt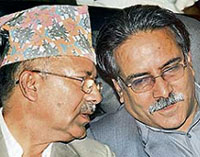 Nepal's once-feared Maoist rebels on Sunday joined the interim government, expressing commitment to establishing lasting peace, democracy and stability in the country by ending their decade-long people's war that killed over 14,000 people.

Nepalese Maoist chairman Prachanda (right) and Communist Party of Nepal (Marxist and Leninist) general secretary Madhav Kumar Nepal during the oath taking ceremony on Sunday. — AFP photo


In video (56k)

One dies in UP pre-poll violence
Lucknow, April 1
In the run-up to the first phase of polling widespread violence erupted in Lucknow, Kanpur, Sultanpur and Basti districts killing at least one youth and injuring dozens of people, including senior police officials, said official sources.
Quota: Govt gets its act together
New Delhi, April 1
Instead of going hawkish on the Supreme Court order halting the implementation of the 27 per cent reservation to OBCs in education institutions of higher learning, the centre has started serious legal consultation with its law officers to make a case for vacating the interim stay and indications are that the Prime Minister may call an all-party meeting to deliberate upon the issue.