PUNJAB

HARYANA

JAMMU & KASHMIR

HIMACHAL

REGIONAL BRIEFS

NATION

OPINIONS

MAILBAG

BUSINESS

SPORTS

WORLD
ADVERTISEMENT
Monday, July 9, 2007, Chandigarh, India
Updated at 3:00 am (IST)

Jehadi CDs seized from home of terror suspects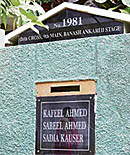 Bangalore, July 8
Sleuths probing the alleged involvement of three city residents in a terror plot in Britain have seized CDs with 'Jehadi' material from the home of suspects Kafeel and Sabeel Ahmed, a top police official said today. The CDs were found to contain "speeches by Islamic leaders", the official told PTI on condition of anonymity.

CAST YOUR VOTE
Will the absence of Tendulkar, Dravid and Ganguly make a noticeable difference to the fortunes of the Indian cricket team?

ADVERTISEMENT

CHANDIGARH

LUDHIANA

JALANDHAR

DELHI

HIMACHAL PLUS

HARYANA PLUS
New

AMRITSAR PLUS

LIFESTYLE

BRIDES WANTED

GROOMS WANTED

OTHERS

HOW TO PLACE ADVTS
Bangalore police hunts for associates of Ahmed brothers
Bangalore, July 8
Widening their investigation into the alleged involvement of brothers Sabeel and Kafeel Ahmed and their cousin Mohammed Haneef in a failed terror plot in Britain, police here has launched a massive hunt for their associates in this city.

Chandra Shekhar dead
New Delhi, July 8


Country's 11th Prime Minister, Chandra Shekhar, who headed a shaky coalition government installed by the outgoing Congress regime for just seven months in 1990-91, died here this morning after a long battle against bone cancer. He was 80.


In video (56k)

Nation page
Obituary: Chandra Shekhar — a firebrand idealist
Tributes pour in for Chandra Shekhar


Special Article: Chandra Shekhar the loner
Dera Row
24 protesters, six cops hurt in clash
Ferozepur, July 8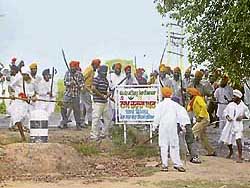 More than 24 Sikh protesters and several policemen were injured during a clash in front of the Dera Sacha Sauda branch situated on the Hussainiwala road here this morning.
Sikh protesters try to uproot the board placed in front of the Dera Sacha Sauda branch at Ferozepur.


Punjab page: Another dera follower sets himself afire


India: The Tasks Ahead
SPECIAL SUPPLEMENT
125TH ANNIVERSARY CELEBRATIONS,
INAUGURAL SESSION

HOROSCOPE


E - Revolution 2005:
A Two-day IT conclave

Assembly Elections - 2005

Turbans

Chandigarh is 50

EARLIER FEATURES
Lal Masjid Stand-off
Lt-Col dies in gunfight
Ghazi claims 305 students killed in assault
Pakistani security forces today suffered their first major casualty in the six-day stand-off with extremists holed up in Lal Masjid with the killing of a Lieut-Colonel.


In video (56k)

World page: Many foreign terrorists 'inside Masjid'
Woman undertrial dies in Jalandhar jail
*Time lost due to absence of in-house doctors
*Seven deaths till now this year
Chandigarh, July 8
This tragedy was waiting to strike. Within a week of The Tribune investigations into the state of Punjab prisons, death came knocking at the doors of women's cell in Jalandhar Central Jail.
2 washed away in Jammu flash flood
Jammu, July 8
Two persons, including a woman, were washed away and several hutments damaged due to a flash flood that hit the Bahu Fort and Sanjay Nagar localities of the city early this morning.


Tribune Exclusive
Procure students or perish
Diktat for college teachers in Tamil Nadu
Chennai, July 8
"Procure or perish" — this is the diktat for college teachers in self-financing institutions in Tamil Nadu during this admission season.
Iraqi doc first to be charged
July 8, 2007

Sensex leaps to 15,000
July 7, 2007

8 militants fleeing Lal Masjid held
July 6, 2007
1,200 surrender, desert
July 5, 2007
2 Indian docs held in UK, Australia
July 4, 2007
Debug all judges, court: Bench
July 3, 2007
Day II: BSNL fails to connect
July 2, 2007
Chandigarh down
July 1, 2007
Interim bail for dera chief
June 30, 2007
Telgi gets 13-yr RI, Rs 100-cr fine
June 29, 2007