PUNJAB

HARYANA

JAMMU & KASHMIR

HIMACHAL

REGIONAL BRIEFS

NATION

OPINIONS

MAILBAG

BUSINESS

SPORTS

WORLD

CHANDIGARH

LUDHIANA

JALANDHAR

DELHI

HIMACHAL PLUS

HARYANA PLUS

AMRITSAR PLUS

LIFESTYLE
Sunday, September 9, 2007, Chandigarh, India
Updated at 3:00 am (IST)

Sharif: No going back on going back
He will be sent out: Minister
In a dramatic development amid desperate attempts by General Musharraf to block the return of Nawaz Sharif, Prince Muqrin bin Abdul Aziz, special emissary of Saudi monarch Abdullah, on Saturday met Musharraf and then urged Sharif to shelve plans for his comeback.



Bookies' call: He won't return


Mush-Bhutto deal off: Minister


World page: 12 hurt in Pak blast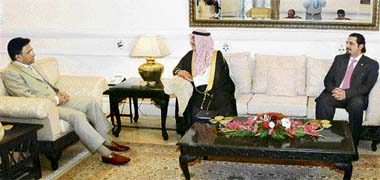 Saudi intelligence chief Muqrin bin Abdul Aziz (centre) and Saad al-Hariri (right), son of assassinated Lebanese leader Rafik al-Hariri, talk with Pakistani President Pervez Musharraf during a meeting in Rawalpindi on Saturday. — Reuters photo
Dire warning in first-ever economic survey
'J&K in danger of falling by the wayside'
Srinagar, September 8
The shadow of militancy over the state may have somewhat faded in the past few years, but the economy of the state is said to be sliding. The first-ever survey of the state since Independence, carried out recently, says "the huge infrastructural deficit spans both economic as well as social sector".

CAST YOUR VOTE
Does India need a federal anti-terror agency?

ADVERTISEMENT
ADVERTISEMENT

BRIDES WANTED

GROOMS WANTED

OTHERS

HOW TO PLACE ADVTS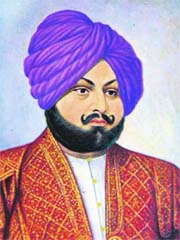 Along with millions of readers and admirers, The Tribune pays homage to its founder, Sardar Dyal Singh Majithia, who passed into eternity on this day 109 years ago.
Chopper falls into lake bed, 4 killed
Bangalore, September 8
Four persons were killed when the Pilactus 68 aircraft in which they were bound for Kochi plunged into a dry lake bed at Gowdanapalya on the outskirts of the city today.
Crate Supply
2 secys pay a price for propriety
Chandigarh, September 8
A clash of opinion with minister of forests Tikshan Sood over the supply of wooden crates worth Rs 15 crore to Pungrain by the Punjab State Forest Development Corporation has resulted in the shifting out of two secretaries from the department of forests within days of each other.


NRI's wife killed, grandson kidnapped
Patiala, September 8
Seventy-year-old Deepinder Kaur, wife of NRI Harnek Singh, was found murdered in the worship room of her house this morning. Her five-year-old grandson Harprabh is suspected to have been kidnapped by her killers.


Harprabh

HOROSCOPE


E - Revolution 2005:
A Two-day IT conclave

Assembly Elections - 2005

Turbans

Chandigarh is 50

125 Years of The Tribune
India: The Tasks Ahead

EARLIER FEATURES

No threats in Osama's new video
New Delhi, September 8
There are a few important operational details in Osama bin Laden's new video. The first and foremost is that the Al-Qaida chief is alive and well. Second, the video, bin Laden's first in 34 months, was in all probability recorded in mid-August. This is borne out by his reference to the anniversary of the bombing of Hiroshima and Nagasaki falling on August 6 and August 9, respectively.
(Details on Nation page)

Poonia family murder
Sonia, Sanjeev to be hanged on Nov 26
Hisar, September 8
The local sessions court today fixed November 26 for the execution of Sonia and her husband Sanjeev who had been convicted of the murder of Sonia's father, former legislator Relu Ram Poonia, and eight other members of the family at his farmhouse in Litani village, near here, on August 23, 2001. (Details on Haryana page)



Never mind the rip-off by private players
In Punjab, consumer can wait
Chandigarh, September 8
Though private companies have entered almost all major social and infrastructure sectors, but the Punjab government is yet to set up any independent mechanism for protecting the interest of consumers of goods produced by these companies. The companies have established themselves in health and related sectors such as medical education as well as other academic areas, housing sector and also in the roads and fly-over sectors.
In Spectrum today
Court orders arrest of Shahbaz
September 8, 2007
Mush Prez till Nov 15
September 7, 2007
Pak SC: When will Mush term end?
September 6, 2007
Pak blasts kill 29
September 5, 2007
Bhutto, Aziz hold talks
September 4, 2007

GSLV fires on all cylinders
September 3, 2007

When Advani said he won't contest
September 2, 2007

We never said deal on hold: Pranab
September 1, 2007
It's truce for now
August 31, 2007
Govt strikes down POTA demand
August 30, 2007