Tuesday, January 22, 2008, Chandigarh, India
Updated at 3:00 am (IST)

LOST Rs 7 lakh crore
Sensex zameen par
Catches American flu, falls over 2,000 pts intra-day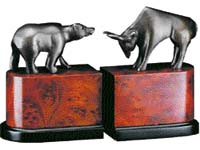 Mumbai, January 21
The Sensex caught the American flu along with other global markets that floored the bulls and allowed the bears to nibble away Rs 7 lakh crore worth of market capitalization in less than five hours.



Business page: 'Don't act on rumours, fundamentals strong'


Crores go down the drain
Life term for 11 in Bilkis Bano case
Mumbai, January 21
A special court set up in Mumbai to hear the Bilkis Bano rape case today sentenced 11 men to life imprisonment for raping the woman during the post-Godhra riots in Gujarat in 2002.



Nation page: Bilkis to continue her struggle
Jawan kills himself, third in a week in J&K
Jammu, January 21
In third such incident in a week, an Army jawan has committed suicide in one of the units situated on the outskirts of Jammu City. Lance Naik Vijay Kumar of 110 TA battalion (Madras) shot himself with his service rifle yesterday.