Editorial: No half-hearted action
Crucial session begins today
Upbeat Cong ready to take on Oppn; federal agency, meltdown on agenda
New Delhi, December 9
The resounding poll victories of the Congress in three out of five states will set the tone for discussions in the phase two of the 14th session of Parliament, starting tomorrow. In the evening, Prime Minister Manmohan Singh met President Pratibha Patil and discussed internal security, the Mumbai terror attacks and other issues of national importance.
Police reveals names of all Mumbai attackers
Mumbai, December 9
Police have obtained the names of nine terrorists, killed in encounter during November 26 terror attack on Mumbai,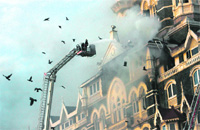 from Mohammed Ajmal Amir Iman who was caught alive and is in police custody, a senior police official said.
Shoaib alias Soheb from Sialkot, 20-year-old, was the youngest of the group while Nasir alias Abu Umar from Faisalabad was the oldest at 28.

Union minister booked
Patna, December 9
A construction company has lodged a complaint against the union minister of state for civil supplies Mohammed Taslimuddin and his son Mohammed Sarfaraz , a former minister of Bihar, for demanding Rs 2 crore as extortion.