vignettes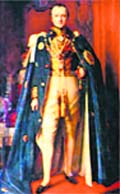 Curzon's love for India
First Marquis Curzon of Kedleston George Nathaniel Curzon possessed qualities to be the Prime Minister of Britain. But the brilliant, cultivated, witty and elite person, who achieved successes rather than success, chose to forget that he was man before being Lord Curzon. He lived in a house of mirrors that reflected his dazzling vision to himself whichever way he turned. When the Prime Minister of Great Britain Lord Salisbury offered him the post of the governor general and viceroy of India, he got thrilled.
shimla diary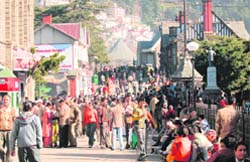 Terror: Tourism industry worried
Shimla, December 9
With the negative fall-out of the Mumbai terrorist attacks, already reflecting in the reduced tourist-flow and hotel cancellations in the town, the tourism industry has been a worried lot.


A view of the Scandal Point in Shimla. Tribune photo: Amit Sharma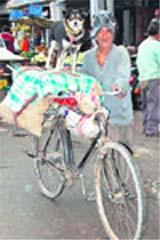 A man gives a ride to his pet on his bicycle near Kangra. Tribune photo: Amit Sharma
BSP threatens stir
Notices to Bhakra Dam oustees
Bilaspur, December 9
The state unit of the Bahujan Samaj Party (BSP) has opposed the serving of 15-day notice to around 460 residents of this town by the electricity board. The board has asked the residents to get NOC from the town and country planning department regarding construction of their houses otherwise their power connections would be disconnected. BSP state general secretary and former MLA Krishan Kumar Kaushal said in this town the government had been trying to rehabilitate Bhakra Dam oustees and while the process was still not complete, the town and country planning department had been creating hurdles. Kaushal warned that if the power or water connections were snapped and the orders were not withdrawn, the party would be forced to begin an agitation.
Pearl farming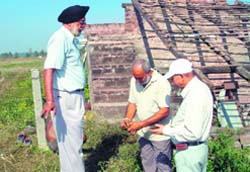 Progressive farmers set shining example
Dharamsala, December 9
Ingenuity has no bonds. Progressive farmers from the lower areas of the state have shown that even without any government support they can improve their lot by getting into new ventures like pearl farming.

Progressive farmers Baljit Singh and Shiv Kumar Sharma at a farm in Khad Panjaur village in Una. A Tribune photograph
Govt's no to upgrade Kangra railway track
Resentment among residents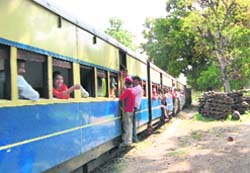 Palampur, December 9
The recent decision of the government of India not to convert the Kangra valley railway line into broad gauge has resulted in widespread resentment among the residents of lower hills of the state. The Pathankot- Jogindernagar section has been known as the Kangra valley railway line, which plays an important role in the economy of this region. The Railways did nothing in the past 70 years to convert this 156 km track between Pathankot and Jogindernagar into a broad gauge line.