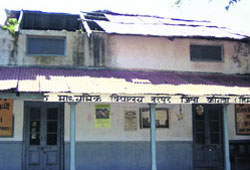 Students unsafe in 'protected' building
Government Boys Senior School, Nurpur, that was initially a high school and came into existence in 1928, is in a sorry state of affairs due to the apathy of the successive state governments. As the school is housed in a centrally protected monument of old Nurpur fort, its shifting is long overdue, but nobody spared a thought to do the needful.

Rain wrecks havoc on crops in Hamirpur
Agriculture dept reports Rs 28.67 crore damage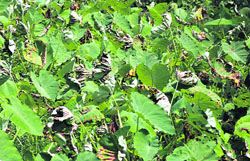 While rains have damaged 50 per cent crops in Hamirpur district with an estimated loss of Rs 28.67 crore, farmers are finding it hard to bear the loss. The damage to the crops is so extensive that almost every part of the district has experienced the loss. Badsar, Nadaun and Bhoranj blocks are the worst affected.
A vegetable field damaged near Hamirpur. Photo by the writer

CII initiates water conservation project
In a collaboration aiming at far-reaching impact and benefits for the industry and more importantly the environment, the CII Northern Region and Coca Cola India have initiated a project named "Conserve" for water conservation and management in Himachal Pradesh. The project was formally inaugurated at a CII session on water conservation organised in Baddi recently.
shimla diary
High-mast lamps to light up Shimla
Some of the most crowded places in the queen of hills will be better illuminated with the installation of the energy-saving high-mast lights. The tourism department has granted Rs 18 lakh to the fund-starved municipal corporation for providing four energy-efficient lights that are being installed by the state electricity board.