Man of the moment


Vishal's selection underlines his calibre as a player and speaks volumes for his hard work.
Vishal Bhatia has got what he has dreamed of-he has been selected for India-A team. This was confirmed by the officials of Himachal Pradesh Cricket Board (HPCB). He would be playing his first match for the country on July 10 in Israel.

BIG BREAK: Vishal makes his way to the league of big players
shimla diary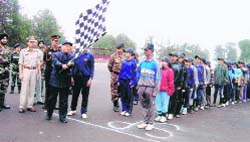 On the right "trek"
As part of this year's All India Girls Trek, over 1,000 girl cadets from all over the country embarked on a 100-km-trek to experience the rugged terrain. The Governor, V.S. Kokje, flagged off the expedition from the Kalyani helipad here.
GET SET GO: Governor VS Kokje flags off the 100-km-trek from the Kalyani helipad.
Making a difference
Here is an eco-club which has become a role model for the rest in the state. In this eco-friendly institution, over 100 students have volunteered to learn the "green lessons" and then go out as ambassadors to villagers, encouraging them to say "No to chemical pesticides and fertilisers".
Mohit croons his way to stardom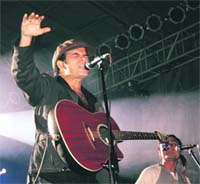 Exactly a decade after the release of his award-winning album "Boondein" under the banner of Silk Route, Mohit Chauhan has finally established himself as an accomplished playback singer in the highly competitive Bollywood music world. Indeed, the runaway success of his latest number "Tumse hi…" from the blockbuster "Jab We Met", which has been dominating the popularity charts for the past one year.
HIGH NOTES: Mohit Chauhan performs in the Shimla Summer Festival at Ridge
Beas spells charm for visitors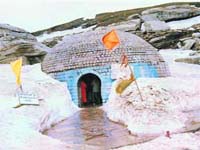 The 13,050-feet-high Rohtang Pass, 51 km north of Manali and the gateway to Lahaul and Spiti, is not only famous for its scenic splendour and snow-clad mountains, this pass is also the source of river Beas. This place is a favourite holiday spot for tourists who visit the place from all over the world. The Beas emerges from a cavern at the Rohtang Pass and assumes different identities as the seasons go by.
The Beas Rishi temple from where the Beas originates
A slice of Rajasthan in Bhagsunag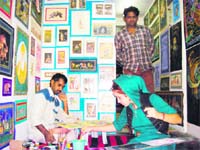 No other region in the country assembles the many paradoxes of India as does the desert land of Rajasthan. The state represents an unusual diversity in all its forms-people, culture, customs, costumes, cuisine, dialects and music. But the traditional artists are looking for places like Dharamsala to sell their art, far from their home.
BRIDGING BARRIERS: A foreigner learns the intricacies of traditional Rajasthani art from the artist
Residents support panel report
Residents have come out in support of the technical committee that has recommended the taking over of the Damdama Palace and Baba Kot as heritage buildings, demanding immediate eviction of tenants from these buildings.
CITIZEN FIRST
Road needs repair
The Banuti-Pahal road, 15 km from NH-88, was constructed under the centrally sponsored NABARD scheme way back in 2004.
Readers, write in
Make Himachal Plus your very own forum and do yourselves and your neighbours a good turn. Here is an opportunity to highlight civic and other public issues, and air your grievances about government negligence and ineffectiveness and the apathy of the officialdom. Send your views, not exceeding 200 words, to Himachal Plus, The Tribune, Sector 29, Chandigarh. email:[email protected]