Sardonically speaking
Her cartoons are "colourful products" and try to mirror the "dark and the grotesque" of today's society. Her punchline may lack the sharpness of veterans, but Meena Kashyap is a promising cartoonist from the hills of Himachal. Her "cartoon-victims" are politicians, negligent doctors, teachers, bureaucrats, commission agents, pollution, corruption- in fact everything that is "gloomy" around us.
Election in Hamirpur sans hullabaloo

The strict guidelines to observe model code of conduct by election commission and little interest of the people in Hamirpur byelection, has made this election a quite affair. While posters and bunting put up in abundance, which used to give a festive look during the elections, is not too many this time, even loudspeakers making noisy announcements are quite few. Most of the election-enthusiasts are also keeping a low profile and not coming in large number.
NOT INTERESTED: Gandhi chowk, otherwise an active election hub, wears an empty look. Photo by Dharam Prakash Gupta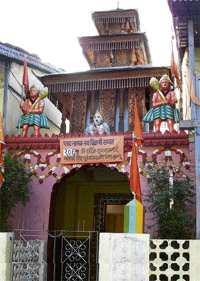 Vignettes
The ideal idol King
It is Lord Raghunath (Rama) who rules the Kullu Valley. The crowned king in flesh and blood is his Charibardar, i.e. he who carries the scepter. The ideal idol king lives in a temple at Sultanpur (see photograph) with his veiled consort. I was lucky this time that I could have darshan of Sita Mata, the thumb-length deity that sat by the side of Lord Rama when he had performed Ashwamedha Yagya in Ayodhya. Let me revisit Ramayana and share with my readers that when Rama had returned from Lanka after defeating Ravana and was ruling Ayodhya, a common man got skeptic about the character of Sita because she had lived in Lanka as captive of Ravana, so Lord Rama decided to send her in exile where she stayed in the hermitage (present Champaran, Bihar) of sage Valmiki.
Shimla diary
Commuters suffer as telcos dig up roads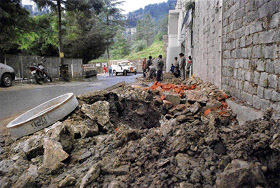 As the ever-increasing number of private companies in the telecom sector vie for expanding their networks, main roads in the "queen of hills" take a pounding. Roads are dug up for laying the optical fibre cable (OFC) every other month, causing much inconvenience not only to the residents, but also to the tourists.


Frequent digging of roads is a cause of inconvenience for the residents of new Shimla.
NIT teacher honoured
An NIT (National institute of technology) professor has brought laurels to the entire by getting honoured with the Decree of Excellence in education by international biographical centre, Cambridge, England.
CITIZEN FIRST
Solving water problem
Government is trying to provide water through water tankers and tractors to the hard areas where water scarcity is predominant in the district of Bilaspur in the state. In this regard, approx Rs 1 crore is going to be spent in duration of just two months on tankers or tractors.