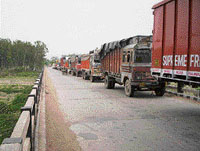 Truckers to be tamed
With the police headquarters finally proposing
to post a new sub divisional police officer (SDPO) at  Darlaghat, the long standing grouse of the
two key cement plants in the region appears to be addressed soon.


Truckers often cause dispute in the industrial
area of Darlaghat.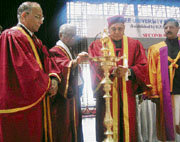 Kokje only second to complete term
Governor VS Kokje's name will go down in the history
of the state as the second constitutional head to
have completed the five-year tenure as his term
expires on May 8. In the past, it is only S.
Chakravorty, the first Governor of the state, who
completed his full term after he was appointed
on January 25, 1971, when Himachal Pradesh
got statehood.
Brig Nagra serves a fruitful tenure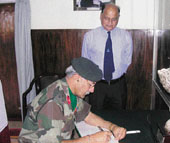 It was a nostalgic moment for the students and staff of Army Public School, Dagshai, when they bade farewell to their chairman Brig H.S.Nagra, commandant, 14 GTC, Subathu. With the school being rated at an enviable sixth position in the prestigious education world and IMRB international's survey, which is the country's premier market research firm, the two-year tenure of the chairman was one which brought maximum fame to the school. Brig Nagra, chairman, APS, Dagshai, signs off.

vignettes
Bhuri Singh Museum scores a ton
I have an instinctive inclination towards Chamba. My present visit to the town had two enlightening experiences. The first was that Vijay Sharma, the foremost artist of pahari paintings in the country, lent me a book to read.

A view of Bhuri Singh Museum. — Photo by S. Chandan

shimla diary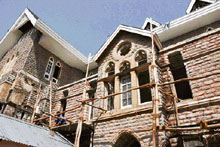 Gaiety awaits gala days
As the restoration work of the historic Gaiety Theatre complex continues at a sluggish pace, the heritage structure on the Mall has become more an eyesore. Inquiries reveal that the work, which has been in progress for the past over five years, will take quite some time for completion. The language art and culture department has already spent over Rs 5.5 crore and as per latest estimates; the final cost will be over Rs 8 crore.
The heritage structure is in need of quick renovation. — Photo by S. Chandan