Vidya upasaks fight for their demands
Now there is a ray of hope for the over five thousand vidya upasaks teaching primary classes in the state as the present state government has shown sympathetic attitude towards them. Although the directorate of elementary education has said they had not received anything in writing from the state government so far in this connection.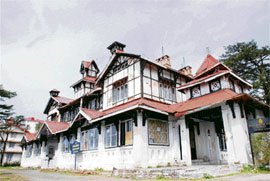 vignettes
Striking Bantony stands tall
Edward Buck had mentioned Captain A. Gordon as one who 'also performed' on the Gaiety stage. This man owned a rickety cottage housing offices of Indian Army where existed the present Bantony, adjacent to Grand Hotel.
The majestic structure is a mute testimony of the bygone era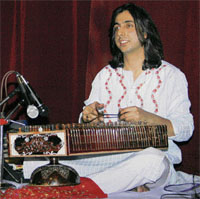 Shimla diary
Treat for music aficionados
With the victory of the ruling BJP party in the Hamirpur parliamentary by-election being a foregone conclusion, the Congress leaders feel that even if they are able to reduce the victory margin of over 80,000 with which chief minister, P.K. Dhumal had won the seat last time, it would be an achievement.


Abhay Rustom Sopori performing at Auckland House School. Photo by S. Chandan
STEP OUT
Cooking in the wilderness
THESE recipes are not only easy to cook, the ingredients are few and easy to carry. For variety in both taste and nutrition, and for those times when everyone is too tired to do any cooking, carry along pre-cooked dishes in tins and foil packets.
CITIZEN FIRST
Monitor cab service
It cannot be denied that there are some reasons behind the present arrangement of cab service. As far as the uniformity of fare is concerned, it is undisputed that is should vary according to distance.