Una SEZ faces farmers' ire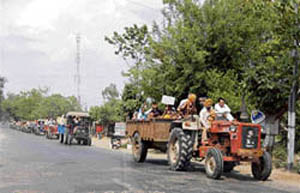 The special economic zone (SEZ) proposed to be set up by a private company in Una district has been facing opposition of farmers of about 24 villages whose land is proposed to be acquired. The farmers have been holding dharnas at the district administrative complex regularly to oppose the project. Some of the farmers had even gone to the extent of assaulting company officials who were carrying out a survey in the Gagret area of the district.
vignettes
Una's undying past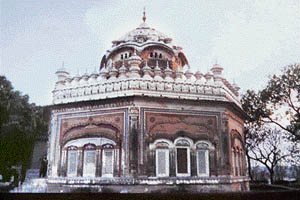 I had always considered Una as any other sleepy, unclean town of the plains of Himachal Pradesh with a grand but clumsily maintained circuit house. My recent visit to the town did not change my opinion on the circuit house, but the Sikh heritage of Una opened my eyes and I would not think twice in recommending people to visit the town for it.

The mausoleum of Baba Sahib Singh Bedi. — Photo by S. Chandan
shimla diary
Cab service under political clout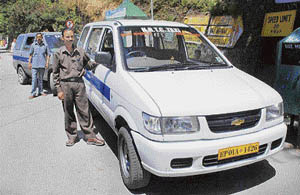 The irrational manner in which the cab scheme is being extended to various localities on political considerations, the state road transport corporation may not be able to continue the service for long. The corporation is incurring heavy losses on almost all routes and the aggregate loss for the month of March exceeded Rs 1.10 lakh. The highest loss of Rs 40,000 was on the New Shimla route. The corporation, which has already accumulated losses to the tune of Rs 450 crore, cannot afford indulge in such indiscretions. Photo by S. Chandan
Himachal Day
Folk dances mark celebration
A cultural programme organised on Himachal Day at Kanjayan, Hamirpur, by folk dancers from different parts of the state was a true spectrum of Himachali culture.
CITIZEN FIRST
Awaiting water supply
Around 11 families of lower Ladoh had applied for "Swajal Dhara" scheme last year vide file no: HP/2006/5001/DTD 6/2/2007 to the executive engineer/superintendent vide letter no: 23482/23483 dated 15/3/2007 after completing all formalities. We have also deposited Rs 33,000 through the State Bank of India. Now, we came to know that the scheme has been closed for which we got no intimation. We have been requesting to the I&PH department for sanctioning the installation of water motor pump, but to no avail. Will the authorities listen to improve the lot of 20 families of lower Ladoh?