Palampur faces environmental degradation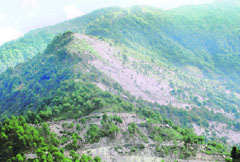 Forests are shrinking, agriculture lands diminishing, tea gardens squeezing, rivers drying up, glaciers melting away, yet this town celebrates World Environment Day every year and hold scores of global conferences on protection of environment. Unfortunately, all this is being done only on papers and inside the conference halls; in fact no groundwork has been done till date.
FADING AWAY: The once breathtakingly beautiful Palampur is losing its lustre. — Photo by writer

Preserving legacy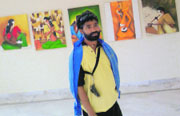 The artist has immense potential, if his current works are any indication
The fading images of India's countryside came alive in an exhibition at Modern Art exhibition hall at International Roerich art gallery, Naggar in Kullu district. M Pradip is an artist who has captured the "rare images of the fading and dying moods" of countryside life, which the future generation would otherwise miss forever.
Mecca of knowledge
Swaran Jayanti Government Senior Secondary School, Hamirpur, is not only one of the oldest schools in this region but also has the distinction of producing many stalwarts in their chosen fields.
Vignettes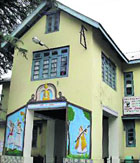 A trip to "fairyland"
I owe most of the contents of this piece to Sudha Kumari, the Rani Sahiba of Jubbal and her knowledge of genealogical history of various princely states. She told me how the piece of land, where today stands Parimahal, the dhajji-walled, gable-roofed, double-storeyed building that gained prominence when sitar wizard Ustad Vilayat Khan moved here from Aira Holme after his four-year stay there and filled the valley with sound of sonorous sitar from 1967 to 1971, got transferred from Keonthal state (Junga) to Jubbal.
— A Tribune photograph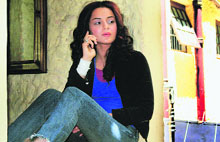 shimla diary
Homecoming for Kangana Ranaut
It has almost been like homecoming for Bollywood star Kangana Ranaut when she arrived in the "queen of hills" early this week along with Emraan Hashmi for the shooting of Mahesh Bhatt's Raaz-2. The film is a sequel to Dino-Bipasha starrer Raaz, released in 2002.
SITTING PRETTY: Bollywood actress Kangana Ranaut in Shimla. — Photo by S. Chandan

Global warming taking its toll
Study centres for jail inmates
CITIZEN FIRST
Travelling by HRTC buses a nightmare