Heritage status soars expectations
Shimla, August 5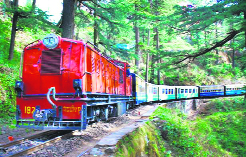 The 105-year-old Kalka-Shimla rail has been accorded the status of a world heritage site by UNESCO, but preserving the natural beauty and tranquillity of the picturesque hills along the winding track will be a challenge. The Railways has indeed maintained the track and the rolling stock quite well, which helped the toy train get the coveted status. The surge in international tourist traffic that the region is likely to witness in the next few years is bound to lead to a spurt in the economic activity en-route the track.
Bamboo taken to cold deserts
Dharamsala, August 5

| | |
| --- | --- |
| The Institute of Himalayan Bio-resource Technol- ogy, a CSIR centre at Palampur, has taken bamboo plantation to the cold deserts of the country. | Bamboo sapling at its different stages of evolution at IHBT laboratory in Palampur. |
Shimla lecturer invited to UNEP seminar
Shimla, August 5
Rakesh Kumar Sharma, an economics lecturer, has been invited to Nairobi to present his research paper on bio-economic modeling of land use changes and forest dynamics in Himachal Pradesh.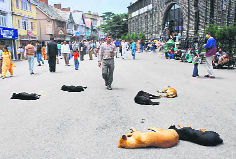 Dog pond project hangs fire
Shimla, August 5
All plans to give relief to the residents from the menace of stray dogs in the state capital are proving to be futile as difficulty is being faced in finding a suitable location for the setting up of a dog pond that will accommodate 500 animals.
Stray dogs take a nap in front of the MC office in Shimla. Photo: S. Chandan
Shimla diary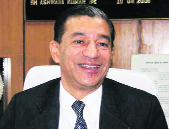 Two ex-CMs in the same boat
Shimla, August 5
Two former chief ministers, Virbhadra Singh and Shanta Kumar are facing same situation these days as detractors in their respective parties are trying their level best to push the two to contest the Lok Sabha elections, much against their wishes.
CBI chief Ashwani Kumar interacts with mediapersons in Shimla. Photo: S. Chandan

Wanted a VIP for inauguration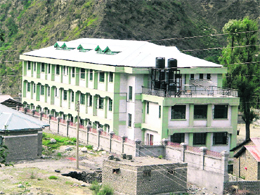 Holi (Chamba), August 5
The building of community health centre (CHC) constructed at Holi, in Bharmour subdivision in Chamba, is waiting for its inauguration while local residents are reeling under inadequate medical services. The newly constructed 30-bedded CHC at Holi, which would cater to a population of approximately 14,500 people is waiting for a VIP to dedicate this building to the tribal residents of this difficult and mountainous terrain.
The newly built community health centre building at Holi in Chamba. Photo by the writer