Off-season vegetables, a hit with farmers
Shimla, July 1
Having earned the reputation of being the 'natural glass house' of the country, cultivation of off-season vegetables in Himachal is set to take a further leap with the introduction of organic farming and high-yielding hybrids.
Early monsoon prevents fire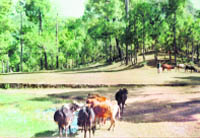 Kumarhatti, July 1
Onset of early monsoon has given the forest department a reason to smile. The department, which usually remained on its toes in the months of May and June due to many cases of forest fires, can heave a sigh of relief this season. The department had recorded the least number of fire cases this summer. As per estimates, the forest fire cases were 50 per cent less as compared to previous years.
Shimla diary
Parking problems plague city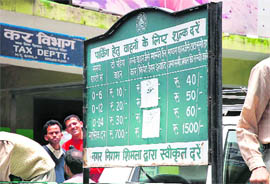 Shimla, July 1
The construction of some new parking lots over the past two years has not provided any respite to the tourists who throng the hill station by the thousands. While the available parking space is still far from adequate, the vehicle owners are being fleeced and harassed by private contractors who were allotted the parking lots.
A view of the parking fee list defaced by contractors to charge gullible tourists at will — Photo by S. Chandan

Toyota Trans-Himalayan expedition through 'cold desert'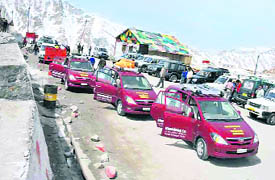 Chamba, July 1
The Toyota Trans-Himalayan car rally was organised by the Rotary International, District-3050, Ahmedabad under the leadership of Mehul Sharad Shah. Rajesh Charak, an eminent trekker, mountaineer and photographer of Chamba, who participated in this arduous rally said a group of 16 members hailing from different parts of India, participated in the event. The main objective of this expedition was to create awareness among the public about polio eradication from the society and about thalassaemia.
Patients in lurch
Grants for medical treatment released by previous government dumped
Dharamsala, July 1
Kamla Devi, a senior citizen of village Mataur in Kangra, was suffering from serious heart ailment and had no money for the treatment. An application was moved by her to the previous government seeking help for the medical aid. The previous government approved a grant of Rs 6,000 under the CM's relief fund.