Annual tribal area plan for Bharmour
Chamba, July 15
An annual tribal area plan of Rs 30.73 crore for Bharmour tribal subdivision has been approved in the project advisory committee meeting held recently at Bharmour under the chairmanship of Vidhan Sabha Speaker Tulsi Ram, who also represents this area.
Old road cries for repair
Kumarhatti, July 15
The condition of the Dharampur-Subathu road has gone from bad to worse. This has caused resentment among local residents, who have alleged indifferent attitude of the PWD in repairing the road.
shimla diary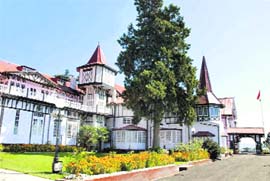 State set to welcome its third woman Governor
Shimla, July 15
The historic Barnes Court, which houses the Raj Bhawan, is all set to welcome the third woman incumbent, Prabha Rau, who is likely to take over on July 18. V.S. Kokje, who has completed his five–year term, was the only Governor to survive the large-scale gubernatorial shakeup after the UPA came to power at the centre.
Women and child care units for each district
Solan, July 15
With a sharp increase in the crime against women in Himachal Pradesh, the police department has now decided to reorganise the women cells as "women and child support units." This is supposed to ensure protection of their rights by effective implementation of laws.
Voices raised against gender bias at temple
Hamirpur, July 15
Lakhs of devotees pay obeisance at the Baba Balak Nath temple at Deothsidh in Hamirpur district. However, the fact that women devotees are not allowed to worship inside the shrine is now being debated.