Total sanitation status for Mandi district soon


Mandi, August 19
If all goes as targeted, Mandi district is set to become the first district of the state to achieve total sanitation by August 15. It has also emerged as a role model in rural sanitation not only for other districts in Himachal Pradesh but also for the rest of the country. The total sanitation programme was launched here in November 2005.
NGO leads I-Day parade in US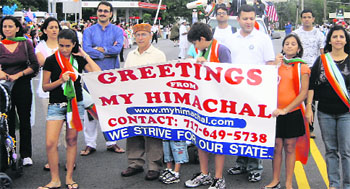 Kumarhatti, August 19
For the first time in the history of US, a Himachal contingent was asked to participate in Independence Day parade organised by the Indian Business Association of New Jersey. The parade covered a 1.5 mile stretch on Oak Tree Road and a large number of people, mostly Indians, attended the function.

Members of My Himachal at I-Day parade in New Jersey, US.

Vignettes
A date with Khajjiar
| | |
| --- | --- |
| Most chroniclers date Khajjiar as sixth century territory of the rulers of Chamba. The vanshavali of Chamba rulers, however, shows that a legendry hero, Maru, founded Brahmpura (Bharmour) in the valley of Budhal River to the east of Chamba in A.D. 550. His kingdom was restricted to Bharmour subdivision only. Even his illustrious fifth descendent Meru Varman could spread | Photo by S. Chandan |
his kingdom along the valley up to present day Chamba.
Shimla diary
Dangerous inclination
Shimla, August 19

Hope the manner in which the recent rains led to collapse of several deodar trees that were already posing a threat to the buildings would be an eye opener for the forest department. Despite requests by many residents for the removal of these trees which could collapse and cause damage to life and property all


Photo by Amit Sood


over the town, the forest authorities could do a little with a blanket ban on felling of green trees.
Infighting mars village uplift scheme
Nurpur, August 19
Completion of a 'Model Village Scheme' remains a distant dream for inhabitants of Hadal gram panchayat in this sub- division, as the scheme hangs fire even after seven years of its foundation stone being laid.