Vignettes
Paradox about Dufferin's Lodge
It is paradox that the Viceregal Lodge at Shimla where Viceroy Dufferin, as the first occupant, hardly stayed for four and a half months in 1888 is shown as Dufferin's Viceregal Lodge in several write-ups. Peterhoff was his former abode 1884 onwards. The other 12 Viceroys up to Lord Mountbatten, with longer stays in the lodge, fall in the category of 'they also stayed'.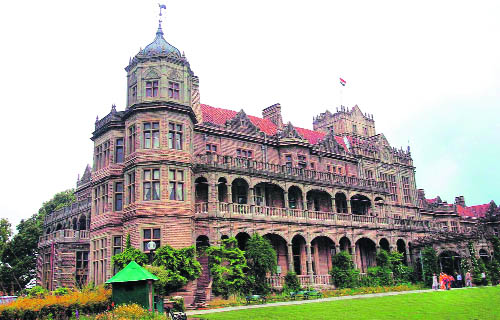 It is paradox that the Viceregal Lodge in Shimla where Viceroy Dufferin, as the first occupant, hardly stayed for four and a half months in 1888 is termed as Dufferin's Viceregal Lodge in several write-ups. — Photo by S Chandan
Mining, cement plants wreak havoc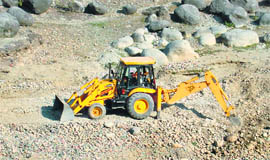 Palampur, August 12
Albeit rains have been good this year, the Govindsagar and Pong dam in the state are yet to fill up. According to experts, this is the upshot of largescale unscientific mining, quarrying, construction of big power projects, cement plants, roads and buildings.

GRAVE DIGGING? Illegal mining has disturbed the state's ecology in a big way. — A Tribune photograph

Shimla diary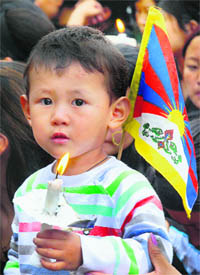 Colourful start to Olympics
A silent protest in Shimla
Shimla, August 12
While China dazzled in the glittering opening ceremony of Olympics in Beijing, the hapless Tibetans who have been reduced to minority in their own homeland used the occasion to highlight their cause. Various Tibetan outfits in exile like the Tibetan Youth Congress and the Tibetan Women Congress organised a series of events, including protests, peace marches and candlelight vigils, to draw attention to the plight of the Tibetans in Tibet under the Chinese rule.




A Tibetan boy holds a candle during a protest march in Shimla. — Photo by S. Chandan

Hamirpur girl bags US scholarship
Hamirpur, August 12
Aushima, a Hamirpur girl, has not only brought laurels to this place but for the entire state by winning the prestigious Fulbright scholarship of the US government for 2008.
Kullu hospital in dire need of specialists
Kullu, August 12
The regional hospital here is facing shortage of specialist doctors and paramedical staff for the past three years, leaving patients at the mercy of private clinics. Non-availability of a paediatrician, gynaecologist, orthopaedician and an eye-surgeon is adding to the misery of patients.
Traffic jams choke national highway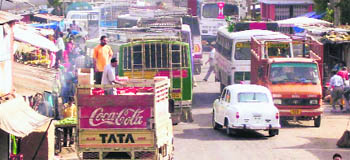 Nurpur, August 12
Jassur and Nurpur are two important towns of the Kangra valley and both are without proper bus stands. Jassur, situated on the situated on Pathankot-Mandi NH-20, is a prominent wholesale trading centre and parking of vehicles is a big problem here.
Photo by the writer

Awareness key to reducing infant mortality: Experts
Hamirpur, August 12
While the world breastfeeding day is being observed in India for quite some time and awareness campaigns have been launched, but it is yet to achieve its goal i.e. to bring down infant mortality rate.
Go for eco-friendly industries: Experts
Kumarhatti, August 12
While forming the public policies, the government should look out for people with experience, education and vision. There is a need to have a broader vision. Eco-friendly industries like software, health, education, service sectors could be better choice then the projects related to cement industries. There is also an urgent need for a long-term strategic planning.
Grievances
NH 21— the killer road
The national highway no. 21, which connects Chandigarh to Manali brings the image of a killer highway. Particularly risky is the stretch between Kiratpur and Barmana that is ruled by truckers. Accidents due to rash driving by truckers are frequent in this area. Besides, the road is full of potholes.