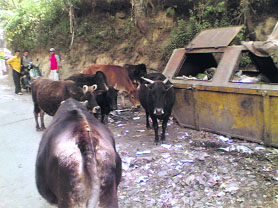 Palampur raises big stink
Despite being the tea town of the state and having produced brave soldiers who have laid down their lives for the nation, Palampur today seems totally neglected in so far as civic amenities are concerned. Potholed roads, streets, overflowing drains and contaminated drinking water tell the tale of the town that is fast turning into a big slum.
Heaps of garbage can be seen in every nook and corner of the town. Photo by the writer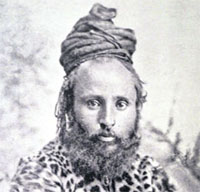 Vignettes
French sadhu of Shimla
C W De Russet had moved from France to India in the last quarter of the nineteenth century. He was a deft tailor but when he started visiting Shimla with his friend T. Reincke in 1850s, he was so impressed by the natural beauty of the town that he switched over to camera-clicking and then to commercial photography that brought Shimla, along with other metropolis of the country, as a top centre of marketable photography.
Shimla diary
Bollywood Calling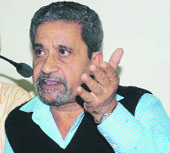 Project of Storm Entertainment Company to produce a feature film with its entire cast from scenic hill state would provide a rare opportunity to local artistes to display their talent at international level. The film "Jalte Zakham" will be shot entirely in Himachal Pradesh, dubbed in English and simultaneously released in USA, England and other countries. Eminent theatre personality Umesh Kant, who is directing the film, is impressed with Himachali talent and it is his idea to have the entire cast from the state itself.
Film director Umesh Kant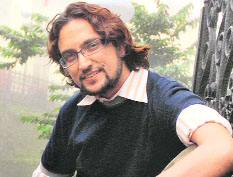 On air On record
Dream big and work single-mindedly on achieving your goal and there would be no stopping. That is precisely the reason why Pankaj could be a source of inspiration for all those who wish to dabble with something exciting and challenging but hesitate to make their dreams turn into reality.
Pankaj along with colleague Anubhav has set a new record of being continuously on air for more than 105 hours. Photo by Amit Sharma

Harvesting the heavens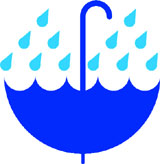 Rainwater harvesting offers the only ray of hope for mitigating the water crisis in the state. Several techniques have been demonstrated to farmers in this regard by various developmental agencies of the state, but it has failed to achieve its desired level. Dr Tej Partap, vice-chancellor, CSK, HPKV, Palampur, and Dr J.C. Rana, director agriculture, Shimla, have developed a model watershed. An opportunity towards this end was offered by a watershed development and management project funded under the National Watershed Development Project for Rainfed Areas and initiated during 2003-04 at Sarahan village in Sirmour, with a plan outlay of Rs 30 lakh.
National award conferred on Dr Majhail
Director and principal of Dagshai Public School Harjinder Singh Majhail, who is also a well-known poet, writer and administrator has been awarded the Rashtriya Vidya Saraswati Puraskar.