Tough terrain ahead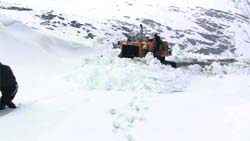 Heavy rain and early snow that left hundreds of tourists stranded at various places in the tribal belt for more than a week has exposed the chinks in the disaster management machinery in these land-locked areas.

To deal with natural calamities, the government must set up rescue-cum-monitoring posts at strategic locations to get definite information about the number and location of tourists
The power of shakti upasana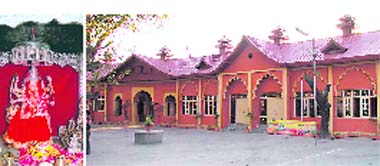 The tradition of shakti upasana in Sirmour hills is as old as the civilisation in the district. All big festivals and fairs that take place every year in this district have a history of shakti pooja. This ritual assumes special significance during navratras
The idol of Shri Tripur Bala Sundri and campus of the main temple at Trilokpur in Sirmour. Photos by the writer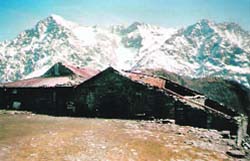 Famous shrine faces neglect
A village that was once the most venerated place in the Kangra valley is now lying in a state of neglect. The holy lamp of Sidh Peeth Adi Himani Chamunda was lit here.






Himani Chamunda temple in Kangra.
vignettes
Rudyard Kipling's love for Shimla


Joseph Rudyard Kipling was born on December 30, 1865, in Mumbai to Alice and John Lockwood. Lockwood, a sculptor and pottery designer, was then working as the principal of Jejeebhoy School of Art and Industry there. Not ungrateful to the city where he was born, Rudyard, as a poet, wrote, "Mother of the cities to me, for I was born in her gate, between the palms and the sea, where the world-end, steamers wait". His birthplace cottage on the campus of Sir J.J. Institute of Applied Art, Mumbai, has been pulled down to erect a new one but the plaque outside states that Rudyard Kipling was born here.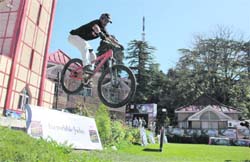 A biker in action on the first day of Hercules Mountain Biking Rally Himachal 2008. This rally started on Saturday from Shimla and will conclude in Manali. Tribune photo:Amit Sharma
Police check post at Kandwal barrier
Keeping in view increasing terrorist activities in different parts of the country, the Kangra police has set up a check post on interstate Kandwal barrier in this subdivision. Additional police force has been deployed on the barrier that remained sensitive in the past during the era of terrorism in bordering Punjab. All vehicles passing through the barrier are being thoroughly checked. The police is also keeping record of registration numbers and other information of the vehicles.
Drive to check water-borne diseases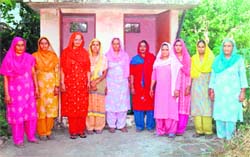 The Hamirpur district administration has started a drive to check waterborne diseases by creating awareness among villagers against open defecation and for constructing toilets.





Rural women show toilets constructed under the total sanitation drive in a village near Hamirpur. Photo by the writer
CSR not known to Baddi units
A majority of industrial units in Baddi are getting benefits of liberal industrial policies of the state, but no one seemed to be taking care of its social obligation.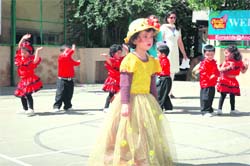 Tiny tots enthral
It was all fun and frolic for tiny tots who danced and sang their way through the health is wealth day celebrations at Anchorage Eurokids.





Children perform during a function at Eurokids, Shimla.
shimla diary
Growth vs greenery

When it comes to initiating action against individuals for felling a tree, the authorities are very prompt but big builders and companies can get away with anything as they show scant respect for laws or government notices.




HOW GREEN WAS MY VALLEY? Slopes along the Ravi turn barren due to the illegal dumping of debris.
New forest working plan soon
The state forest department is all set to formulate new forest working plan (FWP) for Nurpur forest division for next 15 years. The previous FWP created in 1991 was ceased on March 31, 2006.
Revenue Loss
Excise policy at fault
In a clear case of conveniently bypassing the laid norms to benefit a few, the excise and taxation department is distributing liquor sub-vends in various parts of the district, though the excise policy 2008 has no such provision.