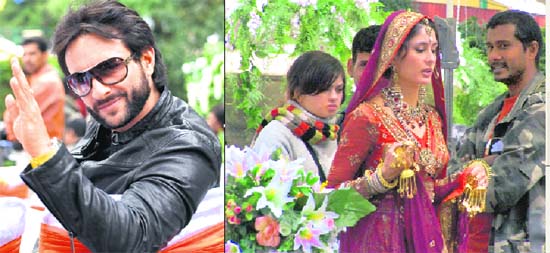 Saif Ali Khan and Kareena Kapoor who are in Shimla for shooting a movie. Tribune photos: Amit Sharma
vignettes
Ripon's heritage
Din Dayal's gain
Shimla's first hospital was proposed by Lady Ripon and the foundation stone was laid on October 20, 1882 by Lord Ripon (the Viceroy and Governor General of India). The subscriptions for the hospital were raised by A.O. Hume (founder of the Congress party), and designed in rambling Swiss-Gothic style by H. Irwin (gaiety's architect). It was constructed by Campion and Learmouth, and conceived by Sir Benjamin Franklin, director-general of medical services in India in 1882.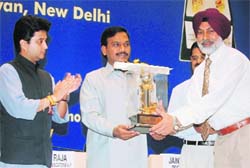 Union minister for communication and information technology Thiru T. Raja presents the state award under the computer literacy excellence awards for schools, 2007 (CLEAS-2007) to director and principal of Dalhousie Public School G.S. Dhillon in New Delhi recently.
Degree colleges sans faculty
Education deptt resorts to stopgap arrangement
The government's mission to make higher education accessible to the rural youth has hit a major roadblock. Most of the rural colleges across the state are facing acute shortage of teachers. Besides lacking in infrastructure, they also lack proper and regular teaching faculty as prescribed by the University Grants Commission (UGC).
Hydel projects pose
threat: Expert
Though largely believed to be an environment-friendly proposition, micro and mini hydroelectric projects, unless implemented with proper planning and due discretion, could have serious implications on the environment and the local populace, cautions social activist and expert R.L. Justa.
Expert tips for future managers
Perseverance, sincerity, hard work, conviction and devotion towards one's goal are some of the key ingredients which a future manager needs to excel in his career. While it's not an easy job to make it to the top what matters the most is one's belief to succeed.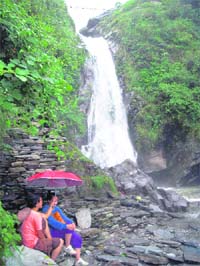 A gush of freshness
Bhagsunag waterfall
Bhagsunag waterfall in Dharamsala is at its pristine glory during monsoons. The water in the fall increases manifold that converts the thin stream into a mass of gushing water. The view of unsullied water gushing out of the waterfall and the mist emanating from the fall of about 20 ft is indeed a delighting experience.
shimla diary
Monsoon Misery
Torrential rains which battered the "Queen of Hills" and other parts of the district for almost 60 hours left a trail of devastation and misery. More lives were lost and property was damaged in two days than the three months of monsoon rains. Out of the total 60 rain-related deaths, as many as 36 took place between September 18 and 20 during which the state capital received 247.7 mm of rain, including 177.1 on a single day which was highest in 46 years.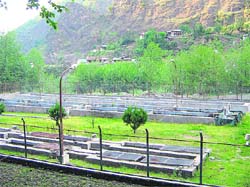 Something's fishy
Residents of Bharmour subdivision in Chamba district are desperate over the utility of trout fish farm at Holi, which was established by the government for the promotion of trout fish farming in the area. A visit to the place reveals that the farm is not meeting the necessities of inhabitants of the people of Bharmour and Holi. The fish farm has become a lame duck as it is facing pecuniary difficulties for the past some time. The department of fisheries has established the farm with a view to encourage anglers in the region to adopt trout fish farming as a means of livelihood.